Kickin' It
Freshman Rachael Ortega chases karate dreams.
As the dojo doors swing open, the crisp inhale of the familiar air and overwhelming sense of family surround freshman Rachael Ortega as the worries and stresses of the day melt away.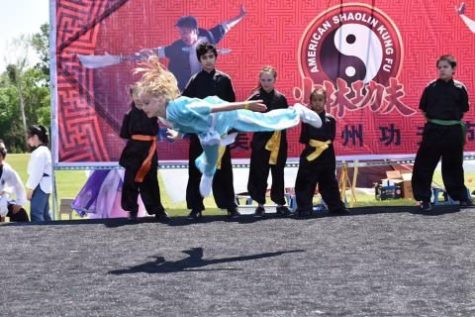 Ortega fell in love with martial arts at a very young age, but she didn't always love it as much as she does today.
She started practicing the art of karate at only 4 years old after she saw her cousins and uncle participating in the sport. When she first joined she couldn't wait to get back home, but that changed shortly after she discovered her passion for competing and received her first belt at 5 years old.
"I just remember that feeling inside of me whenever I got my belt," Ortega said "I was like, 'I'm not going to quit, I'm going to keep on doing this.'"
In the middle of first grade, just a couple months after receiving her first belt, 6-year-old Ortega was asked by her coach Johnny Peavey to join the competition team that traveled and competed locally. That added five more hours of training a week on top of her regular practice schedule. 
"Something that sets her apart is her desire to win," Peavey said. "Certain kids have it, and she's one of them."
As she ventured out to different forms of martial arts, she discovered a traditional Chinese martial art in the form of Wushu. After observing Wushu being performed, Ortega begged her parents to let her try it. After a few months, her parents finally agreed.
"That's when she really just wanted to be there every day," Rachael's mom Shannon Ortega said. "She was living at the karate school, six days a week practicing. She didn't really want to do anything else."
After seeing her love for the sport, Peavey gave Ortega the opportunity to train with the World's team. This elite group competes not only locally but internationally, representing the U.S.
Because this was so early in her martial arts career, she was the youngest and smallest on the team. But after countless hours practicing together, Ortega and her team created a sibling-like bond that molded her growth and love for her passion even more. 
"We were all very close since we were training 36 hours a week during the summer and 18 during the school year," Ortega said. "It was a full year of us seeing each other a lot. We were there more than we were at our houses." 
All the hard work paid off when in the second grade Ortega competed in Indiana in the national championship, this determines if you're able to go on to compete at the world championship level. She competed in seven events there and placed in all them, securing her spot on the Worlds team. Her first time at the Worlds in Orlando, Fla., she earned one gold medal, one silver medal and four bronze medals. 
Once Ortega tasted victory, she wanted more. For the next two years Ortega went on to win more competitions at the state, national and international levels. However, the long training hours caused burn out. 
"I quit the World team and I quit competing in sixth grade," Ortega said. "I just wanted to take a year off and see how it would be because I wasn't doing it for myself."
"
I have trained over 1,000 students and she just has that pure talent. Watching her get amazing and mentally focused and mature, it's quite remarkable."
— Johnny Peavey, former coach of Rachael Ortega
After taking a year off, an overpowering feeling of unfulfillment started impacting Ortega's mental and physical health. In 2019, she returned to karate, determined to work harder and get better than she was before. When she stepped on the mat, she said she instantly regretted ever stepping back and wished she never quit. 
"I missed out on so many opportunities," Ortega said. "I just saw my karate get worse and worse."
But that didn't stop Ortega. She worked harder than she ever had before to earn her spot back on the Worlds team. When she spoke to Peavey about rejoining, he made it clear that she had to put the work in for herself this time, not for others. So she did.
"I have trained over 1,000 students and she just has that pure talent," Peavey said. "Watching her get amazing and mentally focused and mature, it's quite remarkable."
Leading up to the 2020 national championship, Ortega trained intensively inside and outside the dojo to enhance her strength and mental endurance. 
"She knows what she needs to do and she does it," Rachael's dad Josh Ortega said. "She'll wake up early in the morning, do a workout at 4:35 a.m. or she goes run on the treadmill then takes another run in the afternoon. She just constantly trains. When she's focused, she doesn't let anything get in her way of what she wants to accomplish."
Although Ortega dedicated her year to training for the championships, her plan was cut short after the COVID-19  lockdown was put in place. Her dojo shut down and tournaments were canceled for two years.
"After training for a year to have it canceled two years in a row was very disappointing," Shannon said. "She took 2019 off deliberately and was ready to go back and super motivated. When it turned out to be three years off, that was really tough."
Eventually after three years of waiting and training, Ortega was able to compete in the 2022 national championships. She ranked high enough to advance her to the World Championships in Wales, where she competed for Team USA. 
At the 2022 Worlds, Ortega gained two gold medals, two silver medals, and two bronze medals for her technique precision. When she returned home to her dojo, she began preparing for next the World Championships in 2023. 
Because Ortega trains so many hours a day and travels a lot for competitions, she's striving to find a balance with her life outside the dojo. 
"It's hard because my friends are all experiencing the real high school experience," Ortega said. "And I was like, 'Oh, well, I'm not getting that because I'm always at practice.' It's really hard, but the second that we're all (at a competition) together, celebrating and respecting and competing against each other, it was just amazing. It was all worth it."
Leave a Comment
Your donation will support the student journalists of Kingwood Park High School. Your contribution will allow us to purchase equipment and cover our annual website hosting costs. The journalism program at Kingwood Park is funded solely from student sold advertisements and community support.