Seniors lead boys soccer team into playoffs
The boys will play Longview HS in the first round of the playoffs next Thursday.
The ball ripped through the dull air as the final whistle blew in the State Championship game in 2021. While senior Walter Rodee and the boys soccer team did not win the title that year, he will never forget the brotherhood and the togetherness he felt with that team.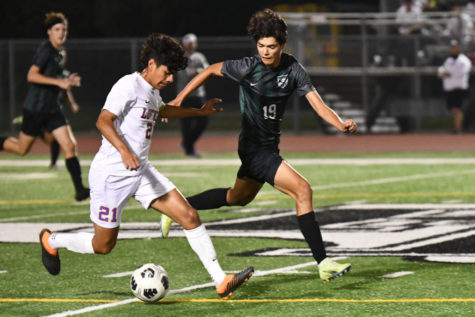 Rodee remembers the way the seniors in 2021 all showed pride on and off the field. Now as the playoffs get underway on March 23, he follows in their footsteps as the younger players follow in his. 
The Panthers are set to play Longview High School (17-6 overall, 11-3 in district) at 7 p.m. at the Lumberjack Stadium in Diboll. 
"I think our seniors this year have shown great maturity," Rodee said. "We've done a great job of basically showing the underclassmen, the freshmen and sophomores, what the program should look like. I think we've set the standard pretty good for the ones coming up."
With 17 seniors on the team this year, there's an abundance of veteran players displaying what Kingwood Park soccer represents for the newcomers. 
"The best part about these seniors is their acceptance of the younger guys," coach Christian Boehm said. "They've adopted them into the group and nobody's ever felt like they were an outsider. There are just a really good bunch of kids that are accepting of the young guys and helped develop them throughout the season."
As a result of the continuous practices, games and tournaments, these boys have built a family-like bond that carries over onto the field. 
"It's fun having all of these guys," Rodee said. "Seventeen seniors, I've been with them since my freshman year, and here we are as seniors. We basically have all grown up together."
Although this team is filled with laughter and camaraderie, they know when to get serious and when to come together to accomplish their goals. The team finished third in districts with a 6-3-1 record (12-5-2 overall).
"What I like best is they are coachable," Boehm said. They listen to our game plans and they put them into action. Even when things go wrong they still trust the process and they remain patient on the field. It worked out really well for us this season."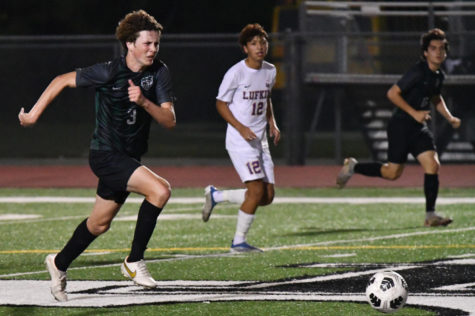 With 17 seniors graduating in May, Boehm and senior team captions Hunter Keelen and Walter Rodee are looking to the underclassmen to step it up and fill in the empty spots next season. Boehm says his job as head coach is not just to prepare for this year but next year as well.

"There's been a lot of growth and development happening so I'm excited for the future," Boehm said. "But I'll be missing a large quantity of players going into next season."
Ronan Flaherty was the only freshman on varsity this season and many look at him as a promising leader for the future. Despite this being his first season, he made a big impact. He even scored the winning goal against Porter on March 3 to help clinch the playoff spot for the team. 
"He came in as a freshman and I could tell he was definitely nervous," Rodee said. "I think us seniors and juniors have been really accepting and we've shown him what it's like. Even though he's a freshman, he's starting to become a true leader and he can be a great leader his junior and senior years."
Flaherty said he's going to continue the seniors' legacies by following the examples they taught throughout the season, like bringing joy, laughter and leadership to every practice.
"I'm nervous, but excited for it," Flaherty said. "Because I do plan on being a leader."