Davidson offers Bender opportunity to serve, play
Senior Hayden Bender kickstarted his football career at the age of 7 when he first joined the Kingwood Football League and became a quarterback. Bender's parents were hesitant at first, concerned about the physical demands of the sport and the potential for injury. But he remained persistent and eventually convinced them with promises of making them proud.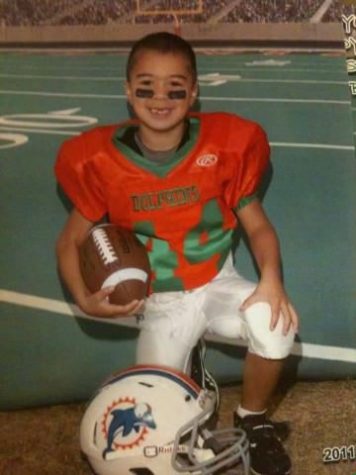 "He was a complete natural," said David Bender, Hayden's father. "He stepped in right when the coaches needed a quarterback and he just excelled from there. He was meant to play this sport."
Bender's passion for football in his early years set him up for success. Eleven years since he first wore a helmet, he is preparing to continue his playing career at Davidson College, where he was awarded a full-ride ROTC scholarship.
"I'm excited to see him take that form of being a hard working guy who's gonna show up for his team and put it into a good environment doing what he loves most at the next level," football coach Clayton Maple said.
Starting high school for Bender meant facing a new set of challenges when he was pulled up to play wide receiver on the varsity team his freshman year. Though he had to adjust to the new position, he embraced the change. He worked hard at practice and during games to develop his skills and make an impact on the field Bender quickly became a key player on the team. By the end of his junior year season, he ranked as the second-leading receiver in the district.
"It was a huge difference, physically, of course," Hayden Bender said. "But the mental aspects from being a quarterback and just using my athleticism helped me a lot with my success as a receiver."
It was about a year ago when Bender first received a phone call from the football coaches at Davidson offering him a spot on the team. Soon after, a military recruiter from the school visited with an ROTC pamphlet and scholarship options that immediately caught Bender's attention.
"I was really ecstatic about the Division I offer," Bender said. "I also felt stumped because the college doesn't offer any football scholarships and I knew I couldn't afford the [$55,000/year] tuition costs."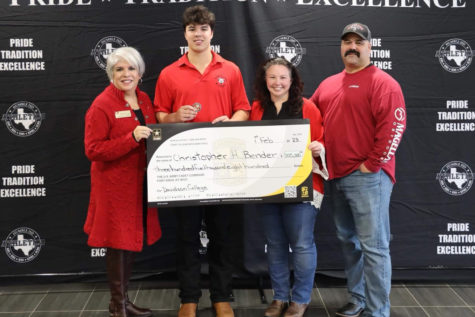 Bender made the decision to apply for major ROTC grants. He initially received a three-year scholarship, but just as it was time to finalize the paperwork, officials at Davidson said to wait until one more scholarship from the reserves was announced. The wait was worth it. Bender ended up receiving a medallion from the Secretary of Army and a 4-Year Minuteman ROTC scholarship worth $305,800.
"It was a rollercoaster of a ride but we got there and by the end of it we were just jumping for joy with tears and smiles on our faces," David Bender said.
While balancing football and majoring in economics, Bender will participate in monthly drills and a 14-day annual training with the National Guard's unit as part of the Minuteman scholarship requirements. The program also ensures guaranteed enlistment in the Army National Guard to recipients after graduation.
"I never really wanted to get involved in the military before but it was an opportunity that I couldn't give up," Bender said. "To serve is always a great thing and I'd be the first in my family to do so, so I'm grateful for it."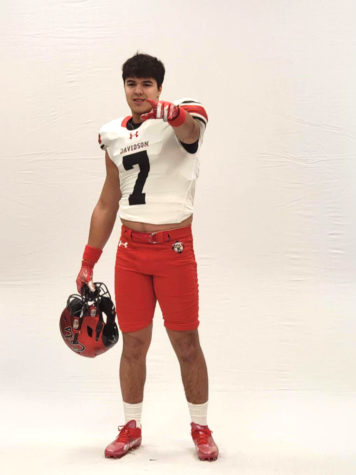 Bender credits a lot of his success to his coaches in helping him get to this point.
"A factor of this program that will stay with me is coach [Clayton] Maple's style of discipline," Bender said. "I think it's really important the way coach [Kyle] Grimes and coach [Bruce] Cox helped me understand in depth a more mental aspect of the game."
Even as early on as elementary school, Bender was known as an athlete with a tough exterior. He prefers to stay focused on football and work as hard as he can, drowning out any pre-game nerves or stress with a good selection of country music.
"He's always been a very tough on the nose kind of kid," David said. "He stays away from distractions and tends to think logically before he gets caught up in anything."
He emerged as a leader on the football team, serving on the team's leadership council. Maple and his teammates also saw his selflessness on display when a he was called into play quarterback at times this past season. He went wherever he was needed.
"He's going to be successful no matter what position he plays because his mindset right there makes him a team player," Maple said. "I think he's going to continue to grow and I hope he brings to Davidson what he's learned along the way with us."