Leierer's persistent pitch pays off
Chuck Leierer sat and listened as his 8-year-old daughter Hannah begged to pitch. The intense college football coach looked at the little girl and could not picture it.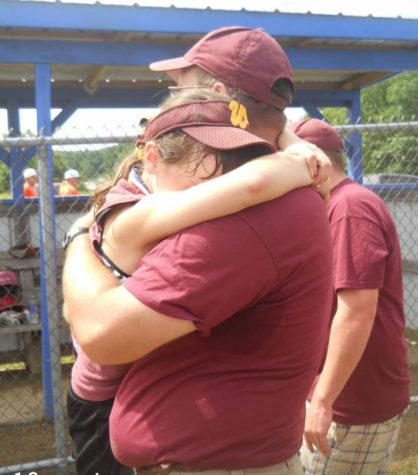 His first instincts were to dissuade Hannah. 
"You have no idea what kind of commitment that is," Chuck told her. 
She persisted. Hannah had already tried figure skating, basketball, cheerleading and soccer. But she kept asking to pitch. 
Eventually, Chuck took Hannah to a softball camp at the nearby college where he coached. She was terrible at pitching, he remembers. Chuck tried to steer her to other aspects of the game. 
Hannah posed the question again, however, when the family moved from West Virginia to Kingwood in 2013. 
"She wouldn't let it go," Chuck said of the girl who grew to become Kingwood Park's ace pitcher. 
 * * *
Hannah joined the Kingwood Girls Softball League. Soon after she started pitching lessons with coach Annie Castle at age 9.
"At an early age, I saw how competitive she was," said Castle, who continues coaching Hannah. "She listened very intently and really wanted to do things correctly."
Hannah learned the mechanics of pitching. She learned how to practice on her own at home. Once she got confident in what she was doing, she progressed quickly.
Most importantly, Hannah loved to pitch.
 * * *
Chuck was a college football coach. He was often away from his family in West Virginia.
"When I was home, I was tired and cranky like a lot of dads," Chuck said.
He admits he and Hannah weren't very close.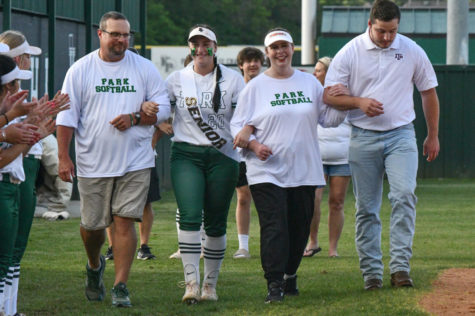 When the family moved to Texas, Chuck took a more active role in Hannah's athletics. He switched to coaching high school athletics, allowing him a more flexible schedule. He made himself Hannah's go-to catcher.
"Part of it is the coach in me," Chuck said. "I wanted to make sure I was doing my part with my background and my experience to give her the opportunity to succeed."
The first couple of years, his shins were constantly bruised from balls he could not dig out of the dirt.
He also struggled maintaining a coach-parent balance. As a football coach, Chuck is intense. That intensity occasionally left Hannah in tears.
"They can joke around now because he knows she's going to work and do the right thing," Castle said. "He's still intense, but she matches that intensity and makes it fun now."
Now, fun banter is a part of their pitching routine. 
"You still can't catch a ball," Hannah tells her dad when he misses a pitch.
"No, you can't pitch a ball," Chuck responds.
They also used to battle about Hannah's chattiness. Usually practice was the first time they would see each other after their days at school. Chuck would try to get Hannah to focus on her pitches. Hannah would want to talk.
That seeming lack of focus used to drive Chuck most crazy at their weekly practices. Now it is what he is going to miss the most when it all ends. 
At home, Chuck will ask Hannah how school went and she will say, "Fine." He'll ask what she learned. She will respond, "Nothing."
"When she starts her pitching workout she'll fill in the pieces of what 'fine' meant," Chuck said. "That's what I will miss most."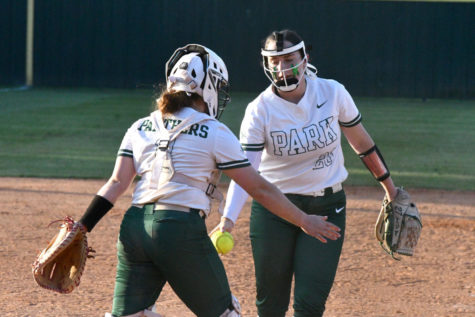 Hannah's mom Melissa will miss watching her husband and daughter from the bleachers.
"He spent so much time on that bucket with her coaching her and helping her tweak mechanics," Melissa said. 
Hannah's older brother, Christian Leierer, helped catch her while he was in middle and high school. Melissa did not. Her reflexes were not quick enough for Hannah, though she did step in as a pretend batter once, which ended in her getting nailed by a pitch in the leg.
 * * *
Ten years after deciding she wanted to pitch, softball took her to all over the country for club tournaments.
Hannah became a starting varsity pitcher at 14. Despite being 5-foot-8 as a freshman, she was scared when she took the mound. She channeled her fears and she found success.
As a junior, she helped the team to round four in the playoffs. At the end of the season Hannah had broken three school records and was named District 20-5A Pitcher of the Year.
She holds the school record for most strikeouts, wins and innings pitched. 
"She always had the talent," Castle said. "But in the last two years or so, she has really found confidence on the mound."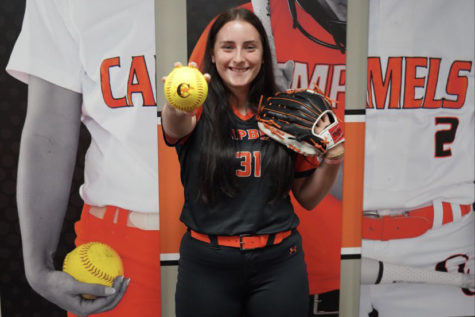 * * *
In the midst of high school success, Hannah had a dream in the back of her mind. She was determined to play Division I softball. Hannah braced for calls on Sept. 1, 2021. It was the first day college coaches were able to contact the junior class.
A couple calls came that day, but overall communication was slow.
"To some degree [the lack of calls] affected her play," Chuck said. "She felt like she was doing something wrong because people weren't paying attention to her."
As time went on the Leierer family practiced a lot of patience as they waited for offers.
Hannah received interest from Division III and junior colleges, but she held onto her goal of playing Division I.
In early August of her senior year, that dream fell into place. Campbell University in North Carolina reached out needing a pitcher.
The stress and wait were over. Hannah was going to be a Camel.
Now, Melissa and Chuck brace themselves to become empty nesters. 
Melissa will miss being a short drive away from watching Hannah's excitement on the field. 
She and Chuck will be glued to the TV every time her games are streamed. 
And when she comes back to visit, Chuck will have a glove and a bucket waiting to catch her.