A Family United
The Sanchez family relies on friends, family and faith.
Counselor Gina Sanchez watched her husband as his doctor gave the diagnosis.
Cancer. Stage 4 colon cancer.
To Gina, everything stopped – and Hugo stopped listening.
Gina instantly noticed the change in her husband's behavior. She realized she had to focus to learn what was next.
"I just had to go full force and say, 'All right, I need to take control because he can't do it,'" Gina said. "When you hear anything like that, you're unable to process it. So for me, it was like, I have to figure out how to do the next step."
Gina was back at work at Kingwood Park the next day.
* * *
It was 2018 and the first couple of days after the diagnosis Gina struggled to talk about it. The support she received from her colleagues, the administration and the counseling team helped her open up about the situation.
At home, she avoided crying to maintain her strong front, but at school with her friends she was able to shed needed tears.
"Of course she was scared, but she never showed it at home or at work," English and debate teacher Aline Theriot said. "She never wavered with her positive outlook."
Gina and Hugo's son, Alejandro Sanchez, was a 17-year-old senior at the time and telling him was stressful.
His shock turned to anger because the family had already been through so much. Gina's mother had recently been diagnosed with Alzheimer's, her father had West Nile virus and the family had just moved to Texas.
Gina realized she had to be strong for her family.
* * *
At school, Gina continued to dive into work as the at-risk counselor, primarily helping the kids who needed the most support.
"
I see the lives that my mom has affected. I want to be like that one day. I want to be able to help people the way she has.
— Alejandro Sanchez
At home, everything was changing.
Hugo had to retire early from his career in law enforcement. Alejandro decided to enroll at the University of Houston to stay close to his dad instead of pursuing his dream of studying aerospace engineering at Embry-Riddle in Arizona.
Hugo's long hours of overtime had kept him out of the house often, but all of a sudden father and son found time they never had before.
"I finally got to know him," Alejandro said. "It's a completely different dynamic, and I love hanging out with him."
Hugo and Alejandro bond over TV, and Hugo made it a priority to start teaching Alejandro life skills, like working on cars.
"He's doing it all now," Gina said. "He doesn't know how much more time we have. None of us do."
The family creates as many memories as they can. They go on road trips to New York and California. They go to the beach or Lufkin to spend a day in nature. Movies and family dinners are now part of their routine.
* * *
In between the adventures, dealing with the diagnosis is a constant.
Originally, Hugo had a golf ball-sized tumor in his intestine. Doctors were able to remove it, but not before it metastasized, which means it spread to other organs.
He currently has six nodules in his lungs that doctors are trying to remove.
Radiation treatment was not an option, so every two weeks Hugo must undergo chemotherapy treatments which are intended to kill cancer cells, but come along with a multitude of side effects.
The morning of his treatments, Gina asks for prayers on Facebook. She has counted every round of chemo. Last week was No. 109.
The replies to the Facebook posts help keep Hugo going as every cycle hits him hard. His wife or son drive him to the treatments. He becomes nauseous just in anticipation of each biweekly treatment.
When the chemo ends, his body is tired.
"Mentally you want to do stuff," Hugo said. "But physically, no matter how much you want to try, you can't."
A couple of days after treatments, Hugo slowly regains his energy. Then it's time for another treatment.
* * *
At work, Gina has been referred to as "an angel on Earth."
The first day she met Theriot in 2017, Hurricane Harvey had just hit. Theriot was far away from family, at a new job and devastation was everywhere in Kingwood. Sanchez opened up her home to Theriot. It was a gesture that shocked her at the time and one she has never forgotten
Theriot quickly came to realize that Sanchez was simply doing what she does – helping others.
Gina, Hugo and Alejandro have become Theriot's Texas family. Gina still tries to take care of Theriot when she's sick, because she knows the teacher's mom is in Gibson, Louisiana.
"Gina has been a rock in my life since I've moved," Theriot said. "She helps me through my problems, talks me through tough decisions."
Sanchez's support for her students and colleagues has been unwavering. Many have no idea what her home life entails as she counsels the most at-risk students, while also helping provide clothes and secure food for kids who need it.
Many times she stays after hours or skips lunch.
Outside of school she does private counseling three days a week to reach more people with her former colleague Caren Barnes.
* * *
At home, Hugo enjoys his family time, but has struggled being unable to work.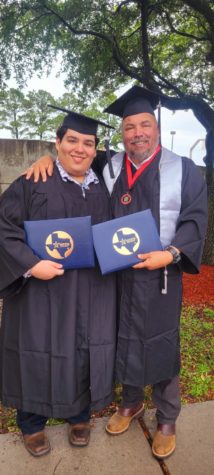 "Sometimes I feel I don't have a purpose or anything," Hugo said. "Just all the unknowns put together, it was life-changing."
He started looking at his regrets. In the 1980s, Hugo was 15 hours away from earning his bachelor's degree when his dad fell ill to cancer. His seven older siblings were spread out across the country, so he left school and stepped in to help his parents.
Life kept moving forward, and quitting school became his biggest regret.
Last summer, he enrolled in Lone Star College. This month, he graduated with honors with a 4.0 GPA, earning his associate degree. That same day, Alejandro graduated from Lone Star with two associate degrees.
"I think one of the reasons I'm doing what I'm doing is so that [Alejandro] could see 'Hey, you know, my dad did it," Hugo said. "Education wise, I need to make Alejandro proud of me too."
Alejandro is proud. As his name was called on the stage at the Lone Star graduation, he waited for his dad at the end of stage for a photo.
"[Gina] was integral in getting them to the finish line. She's the little motivator behind them," said Barnes, who attended the ceremony with the Sanchez family. "She pours herself into those around her, like her husband and her son."
On the day of graduation, Gina updated her Facebook with a video of Hugo and Alejandro crossing the stage. She could be heard whooping and cheering. With the video she commented: "These are the moments we live for!! Congratulations to Hugo Sanchez and Alejandro Sanchez!!!"
* * *
Alejandro is also proud of his mom. He nominated her to be named a "Viva Babe," which recognizes impactful women by the brand Consuela.
In his nomination statement, Alejandro referred to his mom as the pillar of strength for his family. She is, he wrote, "so ridiculously awesome."
Gina received the recognition in April.
* * *
Now, Alejandro wants to make sure his parents are proud of him. He plans to go back to UH to get a bachelor's in education.
This year, he has been carpooling to work with his mom and subbing at Kingwood Park. He wanted some extra money and, in turn, found his passion.
For years, Gina has walked into school and heard students call out her name to say hi. Now, as she and Alejandro walk into the building, students shout out hello to Mr. Sanchez and she smiles with pride.
"I see the lives that my mom has affected," Alejandro said. "I want to be like that one day. I want to be able to help people the way she has."
Leave a Comment
Your donation will support the student journalists of Kingwood Park High School. Your contribution will allow us to purchase equipment and cover our annual website hosting costs. The journalism program at Kingwood Park is funded solely from student sold advertisements and community support.