Burningham earns bronze in final run
Senior Trent Burningham captured third place in the State Championships in the 800 meters on May 12, finishing with a time of 1:52.29. He broke his personal record and the school record that he set earlier this year.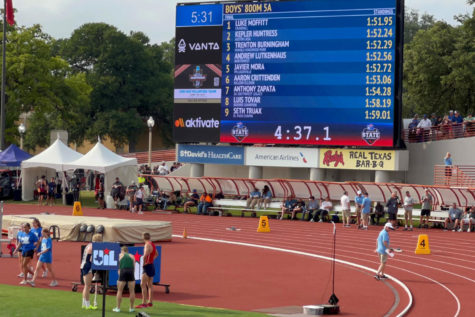 "I knew it wasn't going to be an easy race," said Burningham, who also earned bronze in 2022 in the 800. "I knew it was going to be tight, and I knew it was going to be tough, but I thought I would be able to pull through and get first."
Burningham felt a mixture of emotions after the results came out. He was proud of his time and his third place finish, but he had spent all year with his goal being to capture gold.
"My initial reaction was disappointment if I'm being honest, but I mean it was just a tough race," Burningham said. "It's hard to describe because I did PR, but I know I could have done so much better."
Burningham said that he felt completely prepared for the race, physically and mentally. At the finish, he told coach Chris Elliott that he still had energy in his legs, and he should have started his final push earlier.
"With 300 meters left I was feeling great," Burningham said. "I could have started my kick then, and taken the lead, but I talked myself out of it; and that ultimately led to my downfall, because two people with just faster leg speed were able to out-kick me in the last 200 meters.
Before the race, Elliott told his runner to trust his training and enjoy the moment. Both Elliott and Burningham said they prepared as best they could since last year's State Meet and in the days leading up to the race.
"It's pretty nerve wracking because he didn't run until 5 p.m.," Elliott said. "You want to try to keep it as normal as possible, but at the same time you realize the significance of the meet."
Elliott said the mental aspect of Burningham's track performances and training are a big part of what sets him apart from his competitors.
"He works harder than anybody out there," Elliott said. "There are a lot of kids that have a lot of talent, but Trent's mental strength is really good. He's kind of like that elite athlete for high school."
Burningham, who also ran cross country and played basketball this season, was initially disappointed he didn't finish higher than third place, especially because only .34 seconds separated him from the gold medalist. However, Elliott considers the achievement a huge accomplishment and said Trent has made a great contribution to the program and left behind a legacy.
"The other guys see that he works extremely hard, and that in turn brings success," Elliott said. "I think he's leaving a huge legacy, because he's done things that he wasn't quite sure he wanted to. For example, going from the 400 to the 800 was a huge step, and running cross country his senior year was a huge step. And all these things he did because he wants to run at the next level."
Burningham plans to embark on a two-year mission trip to Manchester, England, after graduation. Upon his return from the mission, he hopes to run track at BYU. During his trip he will have an hour of exercise time each morning to help him keep up his track fitness.
Burningham leaves the program with two state bronze medals in the 800.
"Not many people can say they did that, but you know, I'm not satisfied with two bronze medals, I like to win," Burningham said. "But I'm still thankful that everything was able to go well, because it's a thing that not many people get to experience."