Freshman Elijah Vasquez's passion for music started early. 
"My dad taught me how to buzz in a brass mouthpiece when I was 5," Vasquez said.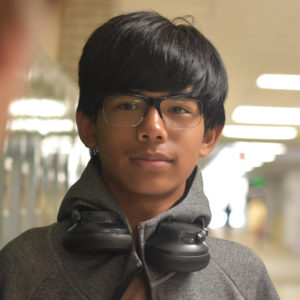 Vasquez plays baritone in the band, however, that isn't the only instrument he is capable of playing.  
"I know all brass instruments, and the flute, cello, keyboard, drum kit and harmonica," Vasquez said.
His love for music has been supported by his family who all know how to play instruments. 
"My dad plays bass trombone, my mom plays the flute, and my little sister plays the french horn," Vasquez said. 
His family has been playing music for three generations. 
This year, Vasquez is excited for the band's show Anthems of the Eras.
"It is the most creative show I've seen," he said. 
Vasquez has enjoyed how the band director Breanna Osbourn has helped him grow in his musical skills. 
"She has a different way of teaching," he said. "She gets excited when we do something good."