I have a confession: I'm a shopaholic. But not for Hollister or GAP, I primarily thrift my clothes. At every chance I get, I'm looking around my favorite stores or going into a new one. People always tell me they thrift at Goodwill or don't know where to go. These are my tips and suggestions for thrifting. 
When I talk to people wanting to thrift, they never think of consignment stores. These stores have good prices, the clothes have been washed and they are of higher quality. Consignment stores work on a rollback price system, which means the longer an item is there the cheaper it gets. These stores often cater to older women. So the clothes left for the longest are "younger looking" clothes that are on sale. The consignment stores I would suggest are Designer Consigner and The Consignment Store. I would suggest Designer Consigner for any jewelry. They have great prices and unique jewelry.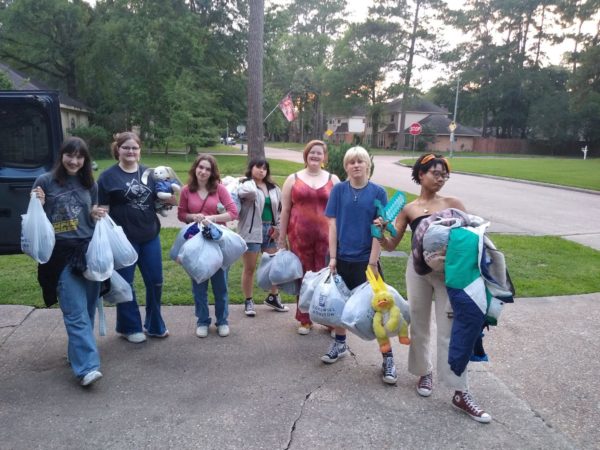 We have quite a few good thrift stores around the Kingwood area. Black Cat Junction is a great place to go for knick-knacks. They have tons of beautiful vintage trinkets. Their jewelry is quite expensive there. But it's higher quality and they have dressing rooms available. Black Cat Junction's sister location is the HAAM resale shop. Do not buy jewelry here. It does not go on sale and is very expensive. Look here for baby tees and t-shirts. The rest of their clothes are reasonable. I suggest going in at the beginning of the month when a new color tag goes on sale. This store also uses its proceeds to help the local community.
Here's my controversial opinion. Do not thrift at Goodwill. The prices in these stores are way more than you should be paying. The t-shirts there are $6. I pay that much for a shirt at Walmart. Unless the tags are on sale, do not shop at Goodwill. However, I do suggest Goodwill Outlets. The closet outlet is in Greenspoint. If you go with a group it's such a fun option. They have bins and bins full of stuff. They sell for $2.50 a pound. If you are a germaphobe I would not suggest going here. This stuff is straight off the donation truck. I love the experience of digging through everything and finding "treasures." 
I highly suggest thrifting as a cheaper option than traditional stores. You can also find name brands for cheaper prices. I find that thrifting helps you find clothes that other people don't have and helps give you a more unique look.