This year, some math teachers decided to make class time more effective by creating stricter cell phone policies. Most of the math department and a few teachers in other departments said they have seen great results in lectures and grades.
"We were noticing that students just got distracted and then don't focus on what needs to be finished," said OnRamps Statistics teacher Shannon Wenter, who started the policy midway through last year. "And most students find that if they just focus, they can be done in like 20 minutes and then they're finished and they can get their phones to do whatever they want. So for me personally, I'm trying to teach students time management and when it's appropriate. Because when you get to college, your professor isn't going to pick up your phone."
In response, some students have embraced the change because it takes away the distraction and temptation of having their phone with them. It gives them the chance to complete work in class and have less to work on at home.
Teachers said they noticed less zeroes in the gradebook since students feel compelled to work without their cell phone to distract them. Students also said they are talking more with classmates and even getting to know new people since no one has their phones.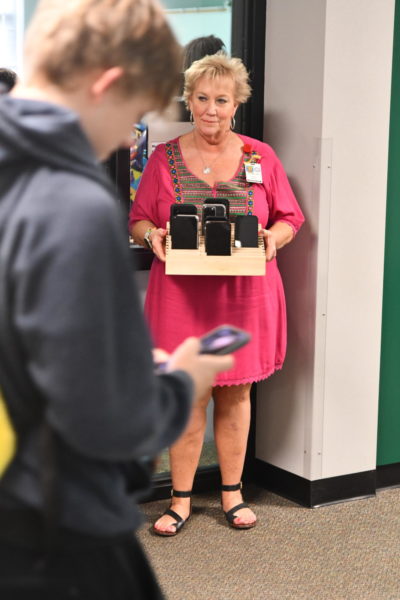 "I don't mind the classroom policy," said Roxana Torres, a senior in statistics. "I get more work done when I don't have my phone on hand. I think I'm better off. Instead of looking up the answers [on our phones], we collaborate on the assignment and we solve it together. We learn from each other."
Other students have struggled with the policy.
Back in 2019, a study by BMC Psychiatry found 23 percent of teens were addicted to their phones. Anxiety rose in those teens each time their phones were taken away. More recent studies suggest the number is even higher after cell phone use rose when teens were isolated during COVID.
"I think it's silly because when I don't have my phone, I'm always wondering what is going on," said sophomore Jordan Hutchinson, whose AP Spanish IV class is not allowed phones. "Instead of focusing on my work, I focus on what's going on my phone. It's more comforting to have it with me."
While there is not a campus wide or department wide policy regarding cell phones, multiple schools in the U.S. have resorted to this solution. In 2020, 77 percent of schools had a cell phone ban, according to the federal National Center for Education Statistics.
For those who have already implemented a ban in class, the policy is staying in place.
"We found through algebra 1, that students were more engaged and focused on the lesson that is being taught," math Instructional Coach Cobi Vicknair said. "[The teachers] implemented it themselves, it is understood that you can't use it until you're told to and they've come up with cute systems to store the phone during class."