Construction that impacted the library started in the summer of 2022 and still continues today. For six months the library was shutdown because of construction. Now that it is open again, changes are evident. 
"With the construction and the design, we had to shift some of our bookcases around to make things fit again, and we wanted to keep this space open as visually as possible," librarian Jessica Castille said.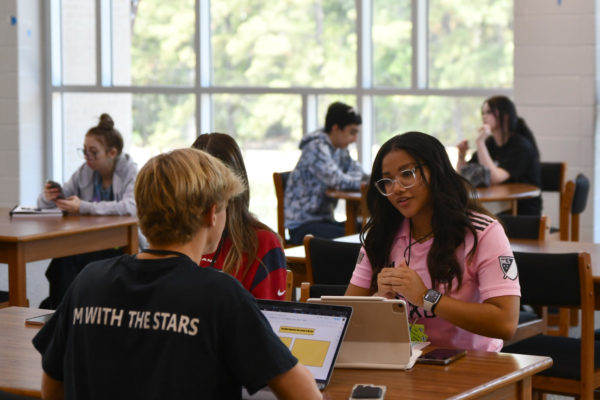 It's important to note many of the library's books remain in boxes, however,  students are encouraged to check out those already unpacked and on display. There are no more late fees for returning books late, but students are now only allowed to check out two books at a time instead of the previous five. 
"I'm really going to ask that students coming in use this as a study space and not just a hangout space," Castille said.
Last year, many students used the space to meet with friends or to waste time during flex. This year the space is more open and there are noticeably less tables to avoid this problem. 
"I think there's been more rules implemented, so that everybody doesn't just come here. It's a lot more quiet this year," junior Mackenzie Wilkey said. 
The few changes already made to the library have made students excited for the upcoming changes. One of the most talked about changes are the windows that spread across the back wall. The room had very small windows prior to the front of the school being renovated.
"My favorite part of the library now is the windows; it's refreshing to see the outside after being stuck in school all day," junior Alexa Grubb said.
Castille has been working with upper-level interior design students and a vendor to redesign the library. 
"One of the things over the next couple of years we're kind of trying to do is modernize our library just a little bit," Castille said. "We still want printed books and I still want bookshelves."
Andrea Smith, one of the students working with Castille, meets with the vendor who helps them to ensure the new design of the library is realistic and accessible. The students, Castille and the vendor usually meet weekly for one to two hours. 
The designers are still in the rough draft state, so no official layout has been approved yet, but the hope is to update all furniture within the next few years. Because of budget constraits, this year's updates may be limited to new bookshelves only. 
"[In a typical meeting,] we talk about what we want in the library, like goals," Smith said. "We choose furniture. We talk about what is more efficient for students, as well as staff, and how we can work with what we have – like with the budget – and the limited space." 
While the library is being updated, students have been using the library to study and work on homework during Flex Hour. 
"We have a great library space and I appreciate the way students do use it," said Castille,. "I really hope this year that they take advantage of using the computers that we have that are in here and using this as a quieter study place."