While you're down on your luck, you find a gig to be a security guard in a shutdown pizzeria. The job seems simple, watch the security cameras from 12 a.m. to 6 a.m. and make sure nothing crazy happens while you're there. Except, something crazy does happen. The animatronic characters start walking around the pizzeria, laughing creepily and attempting to shove you into their sharp robotic suits.
Test your Five Nights at Freddy's Knowledge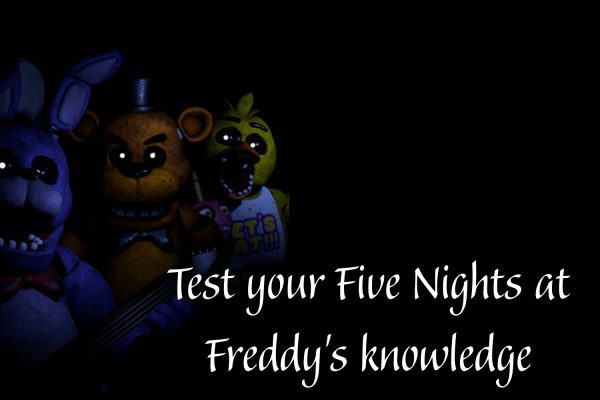 Loading...
There was an error. Please try again.
This is the premise from which the Five Nights at Freddy's franchise originated.
Since then, 13 games, two movies, 28 books and countless fan content have been released. On top of that, the long-awaited Five Nights at Freddy's has now been released. 
Throughout the video game series, a complex storyline has been sculpted by fans.
There is one generally accepted theory. Freddy Fazbear's Pizza was a popular pizza place run by William Afton and Henry Emily. Kids could enjoy pizza and a show put on by four animatronics: Freddy, Chica, Bonnie, and Foxy. However, one day it closed down due to the disappearance of five children, multiple health code violations and the infamous Bite of '87. 
It's believed that William Afton, dressed in an animatronic suit, lured the five children to the backrooms: Gabriel, Susie, Jeremy, and Fritx. There he murdered them, then he hid their bodies in the other animatronics. Shortly after this though, his animatronic suit had a "spring lock failure" leading to his death. The children's souls haunted the animatronic suits.
In Five Nights at Freddy's, players assume the role of a security guard named Mike Schmidt, portrayed by Josh Hutcherson. The goal is to survive all five nights without being killed by the animatronics.
The movie's storyline will not be synonymous with the game's. However, the trailer's release has led fans to develop theories about the upcoming film.
One of the most popular theories is that Steve Raglan is William Afton. Raglan is played by Matthew Lillard, who is known for playing villains like Stu Macher in 'Scream'. In the trailer, Steve is shown hiring Mike which demonstrates a position of power in the company. 
Another compelling theory creates a strong link between security guard Vanessa and Vanny, who makes an appearance in the game FNAF: Security Breach. Within the game's narrative, it becomes evident that Vanny, the primary antagonist of Security Breach, is essentially Vanessa's alter ego, manipulated under William Afton's sinister influence. This theory has piqued fan interest, fueling speculation that, due to her alter ego, Vanessa may also take on the role of a villain in the forthcoming movie. Notably, Vanessa is not originally a character in FNAF one, which adds a layer of complexity to the storyline.
To add to all the craziness that FNAF is, on October 19th, the creator of the games, Scott Cawthon, released a joke game to promote the movie. This has been common in the past but was not expected from the fanbase as he has been inactive for a while. At the end of this game, you get a link to a 10-minute teaser video for the movie, including never-before-seen footage.
However the movie plays out, it will be fascinating to watch how the storyline fits into the already complicated timeline of the Five Nights at Freddy's franchise.