WorldStar makes a mark on KPARK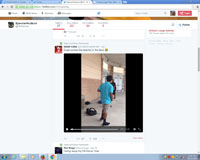 In down time toward the end of class, a phone is slipped out and propped up on the desk. Three or four students gather around behind it, half trying to appear like they're doing something educational. The video begins playing, and the students stand enwrapped, invisibly joining the sporadic crowd caught by the camera, as a fistfight between two teens begins playing out on their screen.
They watch the latest kids to become "WorldStar famous," and debate whether or not they recognize one. Sophomore Joel Guevara and some of his classmates are convinced they have spotted a former Kingwood Middle School classmate in a video that has been favorited more than 1,000 times.
"I can believe he punched a teacher, but I can't believe he got WorldStar famous," Guevara said.
WorldStarHipHop is a video hosting website, almost like a rougher version of YouTube. Instead of cat videos, WorldStar is fuelled by KOs. Though it hosts content of other subjects, the caught-on-camera fights are what WorldStar has become known for, causing the owner of the site himself to give it the nickname "the ghetto CNN of the ghetto."
But WorldStar has spread, and has now become a bit of a phenomenon in youth culture across the U.S.
The shifty morality of the WorldStar phenomenon is not lost on its viewers. If something similar to the events in the videos that make kids "WorldStar famous" were to happened at KPARK, Guevara would have mixed reactions.
"I'd be like, 'Oh my god, our school just got posted, that's kind of cool,' and 'Oh my god, we look like a bad school now,'" he said.
However, sophomore Kennedie Hooper took a firmer stance.
"It's kind of upsetting," she said. "I don't really think you should videotape [fights]. You shouldn't get famous over fights."
What is certain though is that one recent video has spread around KPark, and WorldStar, at least for now, is a small staple of popular teen culture on the internet.