Death of a Bachelor By Panic! At The Disco Album Review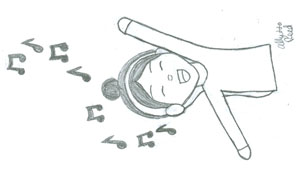 Death of a Bachelor, the just released fifth album by Panic! At the Disco is finally here and it's beautiful. The band announced the upcoming album by releasing the single "Hallelujah". With lyrics such as " All you sinners stand up and sing hallelujah" and "I love the things you hate about yourself" the song is about embracing one's faults and mistakes.
Panic! At the Disco has been making and producing music since 2004. The band members include Brendon Urie (guitarist and lead vocals), Dallon Weekes (bass guitarist), Daniel Pawlovich (percussion),and Kenneth Harris (lead guitarist). The band is most well known for their hit song " I Write Sins Not Tragedies", which was released in 2005 on their debut album "A Fever You Can't Sweat Out". Since then the band has had quite a few hit tracks such as "Nine in The Afternoon" and "This is Gospel". The band released their fourth studio album "Too Weird To Live, Too Rare To Die!" in 2013.One of the tracks that stands out the most off of "Death of a Bachelor" is " Emperor's New Clothes". With lyrics like "Heroes always get remembered but you know legends never die" and "Welcome to the end of eras" the song perfectly captures the thrill and the dark edge that Panic! At the Disco is famous for. The song really shows off Urie's vocal capability through drawn out notes. However the music video is what has fans talking the most. The music video starts out with the end of the music video for "This Is Gospel" and then you see Urie get dropped down into hell. Throughout the video Urie shifts from a human into a demon.
The album includes fast paced songs such as "LA Devotee" and " Crazy=Genius", slow songs such as "Impossible Year" and "Death of a Bachelor" and thrilling songs such as " Emperor's New Clothes" and "Don't Threaten Me with a Good Time". The album offers fans a wide variety of songs along with different beats and tempos. The more one listens to the album the deeper one falls in love with it, there's nothing to hate about this album. Usually there's that one song that you just don't think is all that great but this album doesn't have that, all the songs are great! The album is definitely not a disappointment, in fact it's one of their best albums yet.Fans are definitely looking forward to what Panic! At The Disco has in store for the future.