Past Kingwood Park Student finds future at Juilliard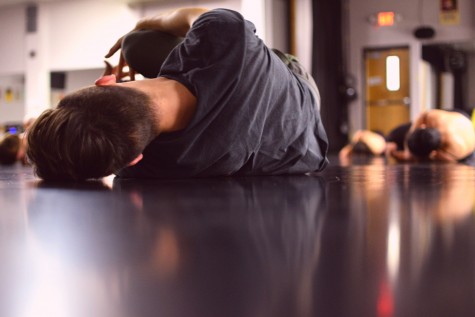 Many students know Dylan Croy because he attended Kpark as a freshman. However now as a senior, Croy attends the High School for Performing Visual Arts and plans to go to Juilliard for dance this upcoming fall.
With only having about four years of dance experience, getting accepted into Juilliard is an even bigger accomplishment for Croy. Dylan auditioned for the prestigious school in February and had to wait until April to find out if he was accepted or not.
"The first part of the audition was a very simple ballet class, but they cut it from like 40 or 60 people to 9 people. Then there was a short and simple modern class. After modern they cut three people. So the remaining 6 of us performed our solos and experienced another round of being cut, but thankfully none of us were eliminated. Next we had to go through a 20 minute interview process, and after this we had to wait until April 1 to see if we had made it or not, " said Croy.
Although Croy hasn't had as much experience as others, he has made this his dream since he first started and done everything he could to accomplish it.
"When I first found out I was accepted, I was surprised. It's not that I knew it was going to happen but it just is the school for me. It was finally like the puzzle pieces came together. It was almost like a breathe of relief because I had been waiting and hoping to hear back from them for so long and I have been wanting this literally since freshman year," said Croy.  All the work and time I put into this art finally made a difference."
Not only has Dylan inspired many with his hard work and growth through dance, he continues to be influential as a person.
"He has inspired me so much to just be who I am and accept everyone for who they are," said Reese Harlan, a senior at Kingwood Park who is Croy's best friend. "He is such a loving, hilarious, selfless person and he always brightens my day."
Dylan has a way of making others feel welcomed and brings a smile to almost anyone's face.
"Dylan no doubt has an infectious personality. He has assisted me with the younger kids which he has a special gift for teaching," said Amy Duncan, Dylan's studio teacher since he first started dance. "He even helped me through a hard time I was going through by always making me smile and laugh."
Croy's success in the dance world has left everyone feeling extremely proud and blessed to know him.
"I'm proud of Dylan for many reasons, going from being a beginner dancer to Juillard in just four years is a big one, but most of all I'm proud of him for having so much success and staying grounded and remembering where he came from," said Duncan. "A lot of dancers his age and with his success would let it get to their head and become impossible to deal with but Dylan has not done this."
Even though Croy has been accepted into a school that isn't your typical university, he still faces the difficulties of moving onto a new chapter of life.
"A big challenge is just meeting a whole bunch of new personalities and getting used to those people," said Croy. "I mean I obviously love meeting new people, especially people I am really going to connect with, but it's kind of scary. Wherever you go there's always going to be someone you don't get along with so it's just being mature about it and that's going to help me as a person."
Juilliard has been a huge dream for Croy and he is continually pushing towards dreams that seem unreachable, but can be accomplished with hard work and a positive attitude.
"I think if you find someone who inspires you and you find someone who has reached the goal you want to reach, it can definitely positively affect you. You just have to really work for it," said Croy. "Always know there is room for improvement. Some days I know I look terrible in class, but it's the approach that you always keep going and hopefully you'll accomplish whatever you're reaching for. If you don't get it then it wasn't meant to be. So just pray it's meant to be; make it meant to be."