Broadway musical creates cadre of Alexander Hamilton fanatics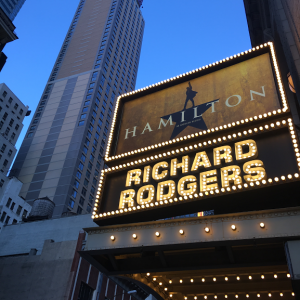 Lin-Manuel Miranda's "Hamilton: An American Musical" has attracted fans from all over America and even other countries. Young and old alike love listening to this world-changing phenomenon.
"Hamilton" has continually "blown us all away" through its ever-growing fan base. Large groups of fans are popping up everywhere from New York to California.
Kingwood Park is no exception, with its own group of super-"Hamil"-fans.
These fans are some of the most diehard followers of the Broadway show, which was nominated for 16 Tony Awards, breaking a record previously held by "The Producers" and "Billy Elliot." The show went on to win 11 awards, as well as The Pulitzer Prize for drama and a Grammy for best musical theater album.
Most fans first heard about the show when it transitioned from The Public Theater to Broadway, or through acquaintances already on the bandwagon, like Brooklyn Muscroft did.
"I was more curious than anything," she said. After listening to the whole musical, Muscroft concluded that it has changed her view on U.S. history.
Once fans listened to all 46 tracks, they "loved it," according to one Hamilton follower, Jessica Kuhn.
"It's a story everybody knows of," she said. "The way Lin-Manuel Miranda tells the story is in a very different and unique way that is easy to relate to."
Kuhn was referring to the fact that the story is based on the biography of founding father Alexander Hamilton by Ron Chernow.
One popular aspect of the show is the writing. The lyrics, which are very clever, definitely draw people in. Some wording has double meaning, such as the reference of Alexander Hamilton as a "bastard." This word can mean someone whose parents were not married to each other, as well as an unpleasant person.
Aaron Burr, who often calls him this, could be talking about his clashes with Alexander or his origin.
"The internal rhyme and the wordplay makes it really delightful for someone nerdy to listen to," Anne Doventry said.
"You can tell a lot of effort has been put into it," Muscroft says.
This is true. Miranda spent the past years fact-checking and researching tiny little details to make sure the show would reach its full potential. Miranda spent a total of six years on the musical before it hit The Public.  
The music in the production features rap, jazz, pop and show tunes. Though most people said that there were too many good songs to choose from, Brendan Rodriguez says that the song "The World Turned Upside Down" is his favorite. He also notes that the song he likes best are the ones with the most historical action.
"In real life, when America defeated the British, the Scottish marching song, 'The World Turned Upside Down', was sung," Rodriguez says. "You're listening to a musical while getting a history lesson."
This has led many teachers to use the show as teaching material in their classroom. Monica Rhor, a journalism teacher, often uses the story and songs to tell about the First Amendment, which was created by many of the characters in the show.
Through songs and interviews, the students can gain a better understanding of the country's early inner-workings.