Students ready to shine as musical begins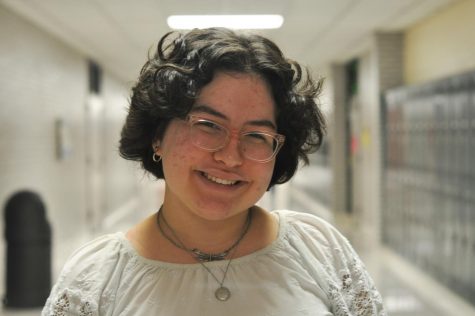 More stories from Sara Geiger
For the first time since theater director Abbey Fera arrived at KPark in 2015, the theater program has chosen to do a musical by itself. The most recent musical theater took part in was "Fiddler on the Roof" in 2017, in which they collaborated with Kingwood High School's theater program.
This year, they will go solo with "Little Shop of Horrors," a musical Fera said was the best fit for their small company. The entire cast and company are excited to try something new and out of their comfort zones.
"Musicals are much more emotional. [Fera] said the other day, whenever you sing in a musical you're so overwhelmed with what you're feeling you have to burst out into song, that's the only way to get your emotion across," junior Brooke Searcy, who will play "Audrey" in the show, said.
Junior Evan Janacek first saw the "Little Shop of Horrors" movie when the musical was proposed as an option for theater's performance this year. He immediately related to the lead character "Seymour," decided to audition and was ultimately selected for the role.
"I saw the movie from the '80s with Rick Moranis and a lot of really cool actors," Janacek said. "I was like, 'Hey, I want to see if I can do that.' So I tried out, and I'm kind of glad I did."
Rehearsals began in early September. At minimum, students practice for three to five hours per day, putting in nine-hour practices on weekends. They also have separate practices for acting, singing and dancing.
"It's a much bigger thing than just a regular play because they have to be triple threats; they have to be able to sing, act and dance all at the same time and that takes a lot," Fera said.
One of the most thrilling aspects of the musical is the elaborate set. The student-led tech theater program is in the process of putting together two moving platforms for the performance that will function as a spinning stage. On top of the implementation of the new set, the music for the show will be performed live by the orchestra students.
"
It's a much bigger thing than just a regular play because they have to be triple threats; they have to be able to sing, act and dance all at the same time, and that takes a lot."
— director Abbey Fera
"The students have their hands in everything, [the teachers] are just there to kind of lead," Fera said.
"Seymour" will mark Janacek's first lead role in his theater career, and although he is nervous, he is eager to see how his and the company's hard work and skills will pay off in the end.
"I want to see how I can do and I want to see how people will look at the play as a whole. I want to see how we, as a company, can do because I think that we can really pull this off," Janacek said.
In the midst of starting junior year, cross country season and rehearsals for "Little Shop," a flooded house was the last thing Janacek needed to deal with. However during the flooding caused by Tropical Depression Imelda, his house took on enough water to force him and his parents to relocate temporarily while their house is under construction.
"[It was] not a really good time for a flood, but we're getting through it," Janacek said.
Although being displaced can turn anyone's life upside down, Fera said Janacek is always on top of his responsibilities.
"When he's in rehearsal, he's working hard and he's giving 100 percent," Fera said. "[Flooding] does have an effect but he has not let it affect him, he has not let it stop him, he has not used that as a reason to not be prepared."
Because "Little Shop" involves more complicated pieces that need to come together, like the moving set and live orchestra, Fera said it can be overwhelming at times.
"Just like in any regular show, there's all these balls in the air. This one has more. You just hope you get it all done in time and you get it done well," Fera said. "I know we can, I just worry."
In spite of the normal concerns, Fera said she is excitedly anticipating the entire company's success when the show finally comes together.
"I love those light bulb moments at the end of performances where they're like, 'I did well,' Fera said. "That's what I look forward to- for them to see the benefit of all the hard work they put in."
Leave a Comment
Your donation will support the student journalists of Kingwood Park High School. Your contribution will allow us to purchase equipment and cover our annual website hosting costs. The journalism program at Kingwood Park is funded solely from student sold advertisements and community support.