Latest Little Women movie wins over new generation of fans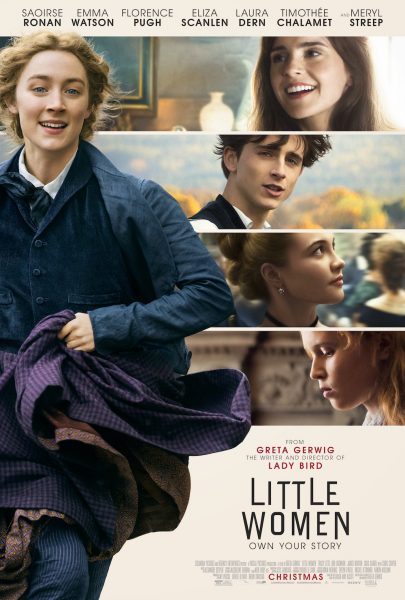 Though it was said amongst a few that a remake of this classic was unnecessary, this film ended up shocking many in its ability to capture its audience and bring them into the lives of the four sisters within. Whether it was completely accurate to the novel, I am unable to say, but if one thing is for sure it is that its beautiful cinematography, acting, and script blended perfectly.
   Greta Gerwig, who directed the Oscar-nominated Lady Bird, showed just how much more she is capable of in terms of film through this movie. She is going to be a name to look for in Hollywood in the years to come. Sadly, this movie got no nominations for the Golden Globes, but perhaps the recognition she and her cast deserves will come around during Oscar season.
   In terms of her cast, Saoirse Ronan (Jo), Florence Pugh (Amy), and Timothee Chalamet, (Laurie), all managed to capture the audience in their own way, for the characters each differed greatly from each other and kept the plot interesting.
   With so many of the main characters being women with distinct personalities, it was easy to fall in love with their characters' ambitions and understand their struggles during that time. Monologues given by Ronan and Pugh that explored these struggles during the 1860s were so well delivered that it was quite shocking to see that only Ronan managed to get a Golden Globe nomination for best actress.
   This in turn goes to Little Women's only other Golden Globe nomination being for best original score. Despite Gerwig's amazing directing, beautiful cinematography and the actors' performance, the movie received no other nominations.
   In terms of negatives throughout the film, it had nothing truly detrimental to its overall performance. If anything, the "bad" things within the movie were quite ridiculous. At times, depending on how much you paid attention, you might not know if the scene playing was in the past or present for a certain character, or you might notice how funny it is that Pugh, a 24-year-old woman, had a whole scene where she had to pretend she belonged in a schoolhouse filled with young teens.
   Overall the plot, characters, and of course beautiful scenery and costumes simply gave off a wholesome feeling that made it hard to hate anything about it. Of course there were emotional times to cry and laugh, but in the end Little Women exists to bring light to the struggles women faced/face as well as love and hope to its audience.