10 best foods for Thanksgiving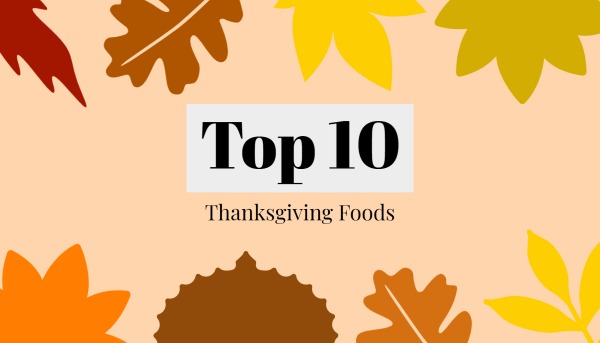 Aside from getting time away from school, everyone looks forwrd to the food over Thanksgiving. While each family adds their own twist to the Thanksgiving feast, these are the top foods that appear on most tables on the big day.
Dressing

– Homemade cornbread dressing is a true southern Thanksgiving food. It's a must have. A spoon full of turkey, dressing, cranberry and gravy is a burst of flavor in your mouth. 
Turkey

– An oven roasted turkey, if prepared right, not only can be the centerpiece of your table, but is also the center of your plate. It's at times bland, but smothered in gravy, adds a whole new flavor. 
Ham

– The brown sugar glazed ham is flavorful, juicy, sweet and easy to bake. If you're not a fan of turkey, the ham can be a satisfactory substitute. 
Candied Yams

– The candied yams are so delightful and sweet, they can be eaten as a side or as a dessert. The yams/sweet potatoes might be on the healthier side but when topped with cinnamon, nutmeg and a layer of toasted marshmallows, the yams/sweet potatoes become candied and can add a couple comfy pounds. 
Green bean casserole

– The humble green bean casserole is a longstanding Thanksgiving traditional food. The savory taste of cream of mushroom topped off with Frenchy's fried onions compliment the fresh cut green beans to bake a comfy dish.  
Mashed potatoes

– Mashed potatoes are the one thing on your Thanksgiving plate that you eat at any time of the year. The best prepared potatoes have lumps and potato skins!!  That's what makes them a tasty favorite. 
Cranberry

– A well-dressed plate with all traditional foods is topped off with whole cranberry adding a dash of color and mouth-watering flavor that can only be completed with this red tart berry.  
Gravy

– Gravy is not really a dish, it's more like a condiment that you pour on everything on your plate. It's that one thing that will truly give your turkey flavor.
Pie

– It's not a true Thanksgiving without pie…. Any kind of pie!  Here in the south pecan pie, apple pie and pumpkin pie are a must. Come on, we all know everyone saves room for a slice of pie.
Rolls

– Rolls are a must, especially sweet Hawaiian rolls. Mostly,  people pick up rolls, so they can push whatever food is left on the plate.