Visits offer community for virtual students
Counselor Gina Sanchez tries to stay connected with virtual students as COVID-related challenges remain.
Logging onto a Zoom at 11 a.m. every Thursday to see the smiling face of Gina Sanchez, Kingwood Park's at-risk counselor, has been a treat for the few virtual students that stop by every week.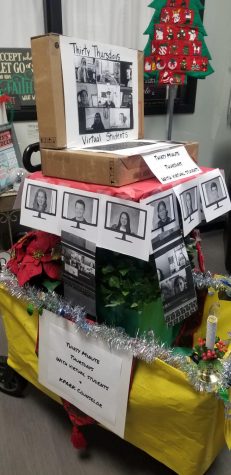 These meetings, dubbed "30-Minute Thursdays" are just one instance in which students can develop a relationship with counselors and other students.
Sanchez has been the at-risk counselor since 2015 and actively tries to have a relationship with as many students as possible.
"I'm able to work with students on different ways to help cope with anxiety, depression, self-harm," Sanchez said. "I just try to get the students to help themselves to see the best methods to get them through the school day. Kids cannot function academically when they have mental health issues, not because something is wrong with them, but because they need help."
Sanchez's job differs from that of house counselors in that house counselors help students with academics. Sanchez is more focused on students with mental health issues, students with housing issues, unaccompanied youth, and many more things that often go unnoticed.
In addition to the social aspect of virtual school, Sanchez says that the school is now seeing more zeroes than ever before due to virtual school.
"My preference is face-to face," she said. "Most kids learn better from someone being right there. Kids feel like they can do online because it's easier. It's not. You need a lot of discipline. We have more zeroes now than ever before."
Many students are unaware of the services that the counselors offer, whether it be just talking, helping with academics or providing strategies to cope with issues. One big concern of the staff was how to maintain communication with virtual students and how the staff could keep tabs on them, making sure they were OK.
"We really depend on the teachers," Sanchez said. "The teachers will let us know. They are our eyes and ears for everything. They tell us if anything seems off."
"
In general, kids are equally stressed from COVID either here or at home. People here fear getting sick, while people at home are so alone."
— Gina Sanchez, counselor
Sanchez encourages students to talk to their parents and guardians in order to have someone understand what is really going on.
"If we take control of it, it won't control us," Sanchez said. "If talking to parents isn't an option, I can teach them how to better cope with anxiety and different activities to do when they're stressed."
Sanchez said COVID has caused issues not only the students but the faculty and staff as well. People are generally more stressed, and more health issues have surfaced in the past eight months.
"In the beginning everyone was like, 'It's so cool," Sanchez said. "It was the general consensus. Now, there is frustration; kids are afraid. In general, kids are equally stressed from COVID either here or at home. People here fear getting sick, while people at home are so alone."
Sanchez encourages students to look more to the counselors for help or even just friendship. There are multiple online resources on the counselors' website; and Sanchez sends out a Zoom link every Wednesday for the 30-Minute Thursday the next day, which she strongly suggests students join. Her door is always open, and she is always willing to have a call with the students.
"Normal life is changing," Sanchez said. "Education is changing. We have a new world."