Parking spot becomes daily reminder to appreciate senior year
I listened to "New Year's Day" by Taylor Swift while I washed the chalk outline off my parking spot. I stepped back to admire my work as Taylor Swift sang the lyrics I had painted.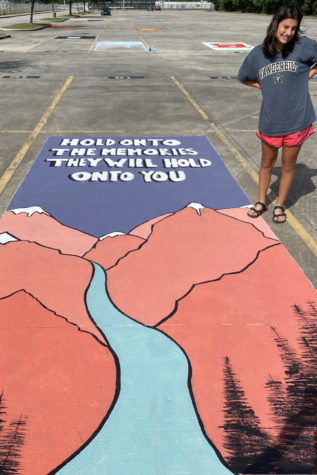 "Hold on to the memories," Swift sang. "They will hold on to you."
I could easily explain my choice in lyrics by saying that I chose them because they were on my favorite song on my favorite album, which would technically be true; however, after painting them on my parking spot, I realized there was so much more to those lyrics.
I spent 11 1/2 hours painting my parking spot on Sept. 4. I listened to every Swift album that's ever been released and had a lot of fun painting with my friends. 
The experience was a great way to start off my senior year. It helped me realize that despite the deadlines, decisions and stress that goes along with senior year, I need to listen to the lyrics I painted on my spot. 
There are experiences this year that I'm going to want to hold onto for the rest of my life. Each time I pull into my parking spot I am reminded that high school's going to be over soon, and despite how desperately I want to leave Kingwood, I'll want to remember my time here.
I'm going to want to remember the excitement of passing out a new issue of the newspaper, going to state for soccer and even when I accidentally forgot to put the water in my mac n' cheese and caused the fire alarm to go off.
This year so far has been busy, and it's easy to only remember the moments where I barely turned in my assignments on time or cried because I didn't think I was prepared enough for a test. In between the hard stuff though, I've dressed up for spirit days, gone to a football game and brought a bunch of friends to see the varsity theater show with me.
I'm already an adult, so being in high school is the last "kid" thing I have left. I'm going to listen to Taylor Swift and hold on to these memories because high school has flown by and I'm going to want to remember it.