Unique talent keeps Tafarroji busy
Sitting in the middle of the 1500 hallway, junior Layla Tafarroji works hard and fast to make sure her tiny red panda is up to her unyielding standards. Her friends flank her on either side as the three of them make casual conversation. Yarn almost spills out of Tafarroji's bag and onto the floor as she works to perfect the minor things such as the tail or the ears.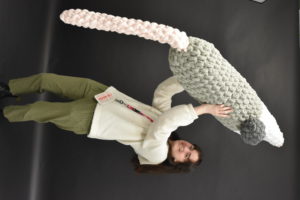 Tafarroji has been crocheting for four months. Her talents don't stop there, however. She also has been sewing for the past three years and has been knitting on and off since the fourth grade.
"I learned that first single crochet, like basic stitching, at my friend's house one night via a YouTube video," Tafarroji said. "Then it took me three months to get where I am. We're creating more difficult content."
While there are many types of crochet, Tafarroji focuses primarily on amigurumi crochet – a style that creates children's toys or larger novelty items out of Yarn. It originates from Japan and is a basic form of crochet.
Her process is a long one. First, she thinks of the idea and then sketches it out based on patterns she finds. Then she spends an amount of time troubleshooting during the actual process of crocheting before the finished product emerges. Her more talented works include a giant stuffed opossum. Smaller creations include foxes, red pandas, frogs, smaller opossums and small lanterns.
"I crochet both for personal enjoyment and also because I want to start a small business," Tafarojji said. "I have sold a few things. I sell mostly by word of mouth at the moment. I have people coming up to me and asking, 'Hey, do you make opossums?' And I go, 'Yes, I do.'"