Aggie Spirit strong in Smoots
Jim and Ben Smoot hope to soon follow in their parents' and siblings' footsteps in Aggieland.
Everyone in the world has a story: things they care about, things they love. This, for the Smoot family, is Texas A&M University.
"A&M is the one thing that connects my whole family," freshman Ben Smoot said.
Ever since the beginning, Cody and Cindy Smoot incorporated A&M into their growing children's lives. They learned their alphabet from Aggieland-themed books. C was for "Corps of Cadets" or "College Station," which they would visit every other weekend. More often than not they were dressed up in their A&M attire, matching as a family.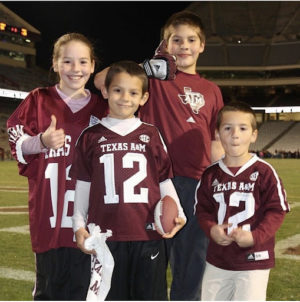 "We have brainwashed our children from the time they were born," Cindy Smoot said.
Cody and Cindy Smoot met in their senior year of college at Texas A&M. That's when they decided they wanted A&M to be a part of their lives forever. Teaching their children the traditions they once were taught, A&M played a huge role in their lives. Now with two of their own attending A&M they couldn't be happier. Their oldest son, Will Smoot, in his sophomore year at A&M is a walk-on on the football team. Casey Smoot is a freshman, just beginning her college career at A&M. Both majoring in biomedical science Casey and Will hope to take the path of their mother and work in the medical field.
"It has been a dream come true sharing A&M with our kids," Cindy said. "We have loved being able to reminisce and share the experiences they are now having."
During one of the most anticipated football games of the season, the Smoots had sideline seats as Texas A&M upset then-No. 1 Alabama. The family watched in awe as Seth Small kicked a game-winning 28-yard field goal.
"You can't describe the feeling of being at an A&M game," Ben said. "It is pure happiness."
"
We have brainwashed our children from the time they were born."
— Cindy Smoot, mom of Ben and Jim Smoot
On Oct. 9, Aggie fans rushed the field, leaving the stands empty as people poured over the sidelines to celebrate the recent victory. Running through the crowd looking for his brother's familiar face upon thousands of others, Jim Smoot felt more than overwhelmed when he finally found his brother in the sea of strangers.
"There is no greater feeling than beating Alabama," junior Jim Smoot said.
The youngest member of the family is Ben Smoot, known for his humor and tennis skills. He hopes to follow in his family's footsteps and attend A&M after high school. Ben wants to take a different route than the rest of his family though. Instead of majoring in biomedical science like his mother, brother and sister, he plans to focus on agriculture.
The next in line to leave for college is Jim Smoot. Jim hopes to attend A&M in the fall of 2023. Jim grew up practicing and learning about all the traditions at A&M, but the one he cares for the most are the "Corps of Cadets" or the "guardians of tradition" which is something A&M is known for. Jim hopes to major in agriculture business and work with animals.
"Me not going to A&M isn't an option," Jim Smoot said.
Everyone in the world has a story: This for the Smoot family starts and continues at Texas A&M university.
"A&M is practically my family's second home," Ben said.