West stays focused, excels on dance floor
Silver Star Zara West still remembers her first dance class on Broadway jazz. She was about five years older than her fellow classmates. 
"When I took my first ballet class, it was like six weeks long and a summer program, and everyone else was like under the age of third grade," Zara West said.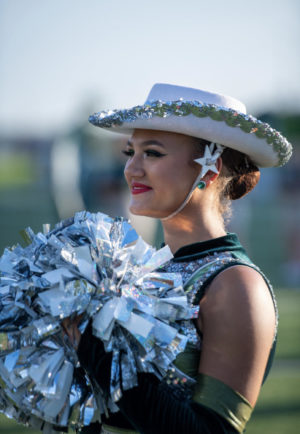 She was never deterred though. West kept signing up for more classes.
According to the Silver Star's dance director Cyndi Vaughn, West's best dance style is lyrical dance. 
"She's just very fluid, controlled and pretty while she dances," Vaughn said. "I think she's the most comfortable in that, as well because of her training she's more confident. Although she does the other styles very well as well she's just more confident and likes lyrical the best."
People can see the work she put into dance. Dance is something that takes time and dedication to achieve things in the craft.
"She's a really good dancer, and she learns very quickly," West's friend Aubrey Lake-Garcia said. "She's also really hard working when it comes to dance because she's only been dancing since 6th grade and so she's improved a lot in just three years."
She worked hard to be better with the goal of becoming one of the best – even when she felt she wasn't good enough. 
"There's always been a group of girls that was the best, and I was never in that group until this year," West said.
Although she has gained skill in such a short time, she doesn't view that as her biggest accomplishment.
"My biggest accomplishment is when this one lady came up to me after watching the performance and was like, 'You're really good and I can tell you really like dancing,'" West said. 
She has earned two scholarships, allowing her to attend two dance competitions with half of the fee required, and made the varsity dance team by freshman year, but she sees a genuine compliment from a stranger makes her feel most accomplished. 
Despite the young dancer's late start, she has grown to be one of the best. 
"I used to wish that I started earlier, but now I don't think I'd want to," West said. "I really want to be a professional ballerina, or at least like someone on Broadway. It's a very intense world, and I don't know if I'm going to be good enough to continue, but I'm going to see where it goes."