Boys soccer team ready for challenge ahead
The boys soccer team lost 11 seniors and its head coach since finishing 2nd in the 5A State Championships last spring. This year, they're a different team.
"I think we can continue to win, but not like we won last year," senior Trey Ricker said. "The games aren't going to be as easy as they were last year, but I definitely think we can be successful."
Last season, the team finished 26-3-2. The Panthers went undefeated in district play. New coach Christian Boehm said taking over a team that has seen so much success in recent years is "daunting" as a coach. His players also have a lot of adapting to do with so many young players.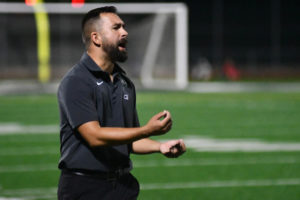 "Coming off a really successful season, it can be challenging if things don't go our way," coach Christian Boehm said. "I'm looking forward to seeing how they handle that adversity."
The boys defeated Cleveland, 4-1, on Jan. 25 in their home opener for districts. Senior Evan Hebert had one goal and an assist. Senior Julian Guerra had two goals of his own with senior Tony Sterner and Ricker each picking up assists. Cleveland scored an own goal to increase the Panther lead.
Rodee, Hebert and Sterner are team captains. Sterner was voted captain by his teammates. Rodee and Hebert were coach's decisions.
"They all have individual abilities, some lead by example and some are more verbal," Boehm said. "They are players that younger guys can look up to as an example."
Boehm took over the job after coaching at Magnolia West. The previous coach, Ryan Searle, took over the Cinco Ranch program in Katy ISD.
"We all love our coach," Ricker said. "He acts like our friend and we're really casual with him, which makes it really easy to listen to him. We also know there's mutual respect and we get along with each other."
One of the strengths of this year's team is the midfield, where Ricker, Guerra and Cristian Selva work together. The trio also plays club soccer together.
"Definitely our chemistry is good," Ricker said. "That's why we have a strong mid-field, we all three play together. Really, our entire team is strong because we all play club."