Daisha George ready for big stage
Daisha George started cheerleading when she was 7 years old. Now, the sophomore is part of the varsity cheer team competing at UCA Nationals at Disney World in Orlando this weekend. 
One of the easiest things for George in cheerleading is being taught. George already liked doing some of the stuff in cheer so it was fun for her to learn.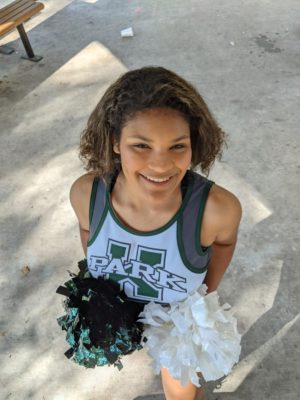 "My grandma always says I'm naturally gifted and I can pick up things quickly," George said. "I guess that I was already like really onto it, and I already knew how to do most things. So the easiest thing I guess would be being taught."
Someone George said she looks up to is a senior Tori Carter. She inspires George to keep trying and to do better. 
"She's a senior and she's also my captain," George said. "She's very skilled. She can do mostly anything. So she inspires me to keep pushing and try to be better."
One thing that George said that she wouldn't have if she wasn't in cheer is her positive attitude. 
George's favorite cheer move to perform is the standing tuck because she likes to see other people's reaction when she lands.
Cheerleading can be very dangerous for the cheerleaders, especially in the flips and stunts.
 "You have to be really good at throwing and catching and gripping," George said. "And if you aren't then you can get hurt or someone else will get hurt."
George has gotten hurt from cheerleading. She hyperextended her knee. She landed wrong when she was trying to do a back handspring back tuck. 
That was when George struggled the most to keep her positive attitude. 
"Being able to stay positive in a really tough situation is not easy," George said.