Jess White, Government teacher and coach
As I got off the bus after my last high school soccer game, I hugged each of my coaches. When I hugged Coach White, we didn't exchange many words. All he did was ask one question.
"Since you were 12?" he asked me. And I began to cry a little bit harder.
"Yep," I whispered.
I first met Coach White when I was 12 and at Texas A&M Soccer Camp. At the time, I never would have imagined that he would still be coaching me six years later. And I am so grateful that I've been able to learn from him for that long.
Coach White is extremely funny, caring and knowledgeable. Thanks to all of his years coaching boys, going to Baylor, playing rugby and working in Chicago, Coach White has endless stories. While his stories do consistently make practice end late, they have also made Coach White the only teacher besides my own mother who I go to for advice.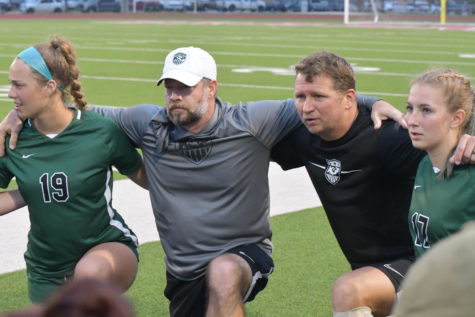 One day in January during practice, he pulled me aside to show me a video he had seen on Instagram that talked about being kind to yourself and treating yourself as you would treat a friend. He said it reminded him of me, and that video will probably stick with me for the rest of my life.
A few weeks ago he said something to himself under his breath that wasn't very nice, and I overheard him. He was upset about something in his government class; something small like the projector not working. Immediately I remembered the video he showed me back in January and I asked him if he would talk to a friend that way. A smile spread across his face and he shot back, "Who taught you that?" 
Coach White's ability to have so many students and players, but still make such impactful individual connections is much appreciated. He has a million things going on, but he always makes sure to check in with people and take note of the things going on in their lives.
His experience in coaching and willingness to listen to ideas from anyone, helps make practices interesting everyday. He uses a lot of drills from Texas A&M Soccer Camp, which is fun since they're created by one of the best soccer programs, but also used in camps for elementary and middle school kids. On top of that, he'll stay after practice so someone can show him a new drill idea and then include it in practice that same week.
While I've known he was a great soccer coach for a long time, this year I was also able to have him as a teacher. Despite my love for the content of his class, it's truly enjoyable because of him. Sometimes he'll pass me notes in the middle of lectures about soccer things which makes me laugh because it catches me off guard. He'll be in the middle of a sentence about the Constitution, and then pass me a note about our game at night. His mind is truly going at 100 miles per hour. He's always helping people and making sure people on the soccer team are taken care of.
Although I roll my eyes every time he says it, I'm going to miss him yelling "caca!" after every minor inconvenience. I'm also going to miss him taking scrimmages way too seriously and knocking down anyone in his path. And lastly, I'll miss him hanging out in my mom's classroom when he has lunch duty in her hallway on Fridays. When I was 12, I never would have guessed the incredibly positive impact he would have on me in high school.