Students raise money, find deals in Flex Market
When you walked in the commons, students flocked to different tables scoping the scene for gently-used clothes, shoes, jewelry, books and the hundreds of donated items being sold. The usually empty area was filled with tables covered with donations from students and staff alike. They surrounded the panther, which symbolized Kingwood Park as a whole and the solidarity the school was representing.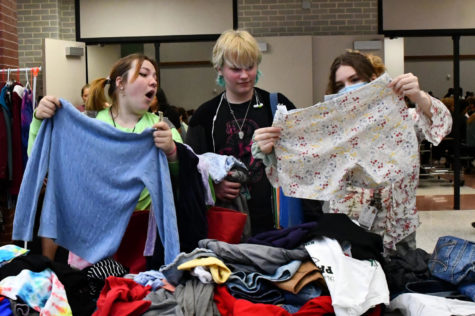 "The idea was inclusivity, and inclusion and how everyone in the school can get involved with something," junior class president Ian Gamem said. "I feel like that's the most important part of any kind of school to function and any kind or society to function. Just to have everyone feel included and make everyone feel as if they have a place." 
Students of all grades levels participated, whether it was donating, purchasing or selling their own products. Students had the opportunity to buy their own tables for $20 and sell their own clothes and other items with the pricing of their choice. This gave many students the opportunity to make a quick buck. Some made over $1,000 dollars with the items they brought to the flex market. 
"(I wanted to) get people looking better and dress people better," said junior Eric Greer, who donated older vintage clothes and items passed down from his family for about $5-$10 each.
As far as the clothes that were donated, they were sold at a very low price. Many shoppers found great deals during the three-day sale. 
"The whole ideology was to give to students that don't have it or maybe that are more misfortunate than others," Ganem said. "We sold everything for $1. It was buy one get one free, so everything was essentially $.50. It was to give students a thrift market and get clothes for dirt cheap." 
The number of donations and shoppers were abundant. It helped that teachers offered extra NHS points for every piece of clothing donated. Roughly, about two dozen bags full of clothes were donated. Each one roughly had 40 pieces of clothing in them. 
"I'm almost certain that it will continue to be a Kingwood Park tradition," Gamem said. "I hope it kind of puts pressure on the administration almost. It's like hey the entire school likes it, it's all inclusive and now with the success of our other vendors showing. Maybe this can be a way for other students to make money. You're forced to go to school so why not make it a little more fun."