Gilstrap flips her way to state meet
Gymnastics has been a huge part of Gilstrap's life for as long as she can remember. Her sister competed in gymnastics which made her want to join. Now, she practices about 16 hours a week. She is competing in every event at this year's state meet. 
"It's a pretty big deal," Gilstrap said. "I don't really have any goals, I'm just using this year to feel it out."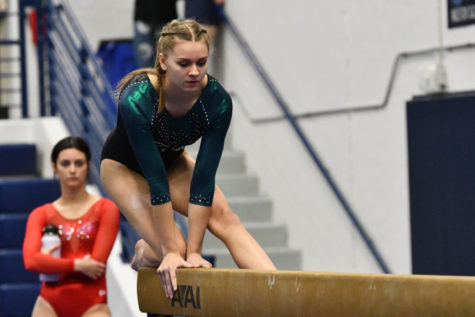 Gilstrap is the first girl Kingwood Park student to compete at state, which will be held on April 20 in Dallas.
Humble ISD gymnastics director Justin James said he has high hopes for Gilstrap at state considering the season she's had so far. Both Gilstrap and James said her best event is vault. It's her favorite event because she's done so well in vault this season. 
"The main thing I want Sydney to take from her sophomore state meet experience is that she belongs there," James said. "I want her to soak in the moment and gain some confidence to prepare the best she can for the next two years."
As a sophomore, Gilstrap still has two seasons ahead of her, and can go even further despite her freshman year being short. Gilstrap still has two years of high school left and a lot of time to go far in gymnastics. 
"She can be very competitive at state in the next few seasons," James said. "Sydney has progressed with much better form and technique in her gymnastics. This really benefits her within high school competition through her compulsory and optional routines."
This year holds more opportunities at state than last year since the number of meets were reduced last year because of COVID. This year, gymnastics was able to have a full season.
"I'm really happy I was able to get into state," Gilstrap said. "I'm very lucky to be in it."