Third Fantastic Beasts movie worth the wait
The Fantastic Beasts franchise should not end with "The Secrets of Dumbledore."
The Fantastic Beasts franchise is back after much delay. The recasting of main antagonist Gellert Grindelwald, COVID-19, and poor box office turnout all pushed the movie back. However, The Secrets of Dumbledore was well worth the wait, and any fan of the Wizarding World will not want to miss it.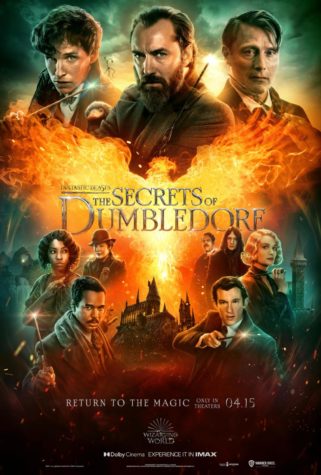 Eddie Redmayne reprises the role of the lovable protagonist, Newt Scamander. Redmayne had a lot to live up to when accepting the role of Newt Scamander, and his genuine and pure Hufflepuff character redefines the characteristics of a hero. 
There are less beasts in this movie, but Pickett the bowtruckle and Teddy the niffler are always there for Newt. 
The focus of the series has turned toward a storyline about Grindelwald and Dumbledore contrary to the first film, which was based on Scamander and his newfound New York friends. 
Throughout the whole Wizarding World, three actors have played Dumbledore. Jude Law does an excellent job with portraying a younger version of the character. Moviegoers get to see Dumbledore youthful and in his prime, but they also get more of the Dumbledore-Grindelwald background. Dumbledore may appear physically younger and with shorter hair, however, he is the same Dumbledore Potterheads read about all those years ago. He still leads the mission, only giving hints along the way. He is devoted to Hogwarts and known around the wizarding communities as someone with importance.
Grindelwald is a different situation. He sports a completely different look now that Mads Mikkelsen plays the role. With his developed relationship with Dumbledore becoming a major part of this new film it is odd to imagine Depp in the role for this film. Mikkelsen turned Grindelwald into a calmer, more slick and likable character, making sense of his grand following. 
The original viewers of the Fantastic Beasts franchise will not be disappointed when finding out the humorous New Yorker no-mag, Jacob Kowalski, has a much bigger role in the series. While he and the love of his life, Queenie Goldstein, fight on different sides of the war, he never fails to fight for her even when at a clear disadvantage. 
Newt's assistant Bunty Broadacre is given a bigger role in the movie, and Eulalie Hicks, who was briefly mentioned in The Crimes of Grindelwald, has a large role in this film too. Theseus Scamander also takes part in this next movie, and Newt and Theseus showcase some of the sweetest brotherly love. 
It has been stated that the projected five-movie franchise may not continue after The Secrets of Dumbledore if there is low turnout, so it is vital to see the movies in theaters in order to receive the last two. If the series is over, The Secrets of Dumbledore ends at a good point in the story and viewers will be satisfied after leaving the theater. 
The whole movie keeps viewers on their toes and in the moment, while also giving an ending they will be more than happy with.