A CLOSER LOOK: Receptionist Criss Daspit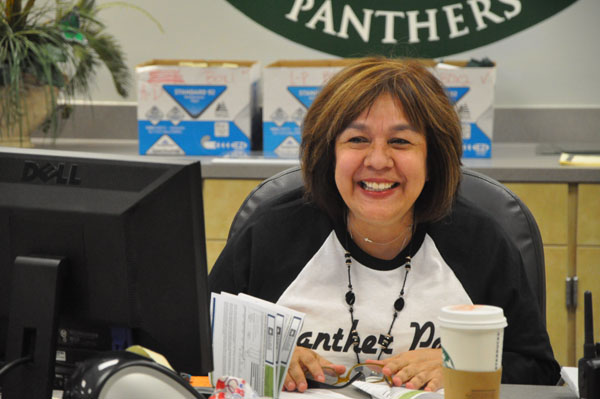 Q: What is your job title?
A: Receptionist.
Q: What duties do you have?
A: I check in and greet all of the visitors who come into the campus, and every visitor needs a visitors tag so I get them one, and I help students with any questions that they have and help them find their way around KPARK.
Q: How long have you been working here?
A: Four years volunteering and three years as a full time employee.
Q: Where else have you worked?
A: Before this I worked as a kindergarten teacher at St. Martha's Catholic School for 10 years and before that I worked in the oil field business as a secretary.
Q: What is your favorite part about your job?
A: The people I get to meet and the students I get to help.
Q: What is your funniest moment at KPARK?
A: During Halloween time I bring this freaky mask with eyes on it and I stand in the back of the commons and it freaks the students out, it is very funny.
Q: What do you do outside of school?
A: I like to watch sports and go to KPARK baseball games. I spend a lot of time with friends and family and worshiping God. Those are my three priorities.
Q: What was your favorite part of high school when you were in it?
A: I was really involved. I was in Student Council, I was the president of the Spanish club, and every year I was either the class treasurer or the vice president. So that kept my time and I was very busy.
Q: What do you think is the hardest part of being in high school now?
A: Just the pressure of being a kid today. There is so many things that are taking away from academics and the sports part of high school.
Q: What is it like working at a school that your granddaughter attends?
A: I love it, it's great to see her everyday and it adds so much more. She loves KPARK.