Senior class ready for final basketball season together
As the girls basketball season gets underway, the players' chemistry consumes the team on and off the court. The players want to create a family-like bond that makes it easier to move the ball up and down the court offensively and defensively.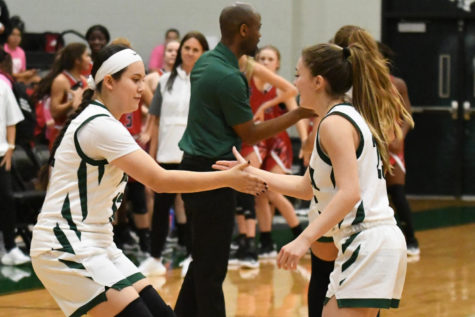 "We've all known each other for a long time," senior Matti McDaniel said. "We have six seniors and we all went to middle school together. So we already have that bond created, that chemistry and I think it is going to be a really fun season."
The team defeated Magnolia, 52-44, on Monday night to improve their overall record to 2-4. Senior Biva Byrd paced the team with 24 points and 15 rebounds. 
Coach Andrew Cross wants to build on the bond the girls have already created throughout the years. Although he's been promoted to head coach after being assistant coach for two years, he doesn't want to change a team that's already seen success. He does want to add bits and pieces, however, to make an already successful team even stronger. 
"Taking over a program where you already know the girls and you've built relationships with them is really cool because I didn't have to come into a new school and learn new people," Cross said. "I already knew the girls and they already knew me."
After holding the title of distinct champs for two years running, the team's overall goal is to make it to the fourth or fifth round in state playoffs. In order to accomplish this, Cross expects his team to stay focused and work harder than ever before, while also keeping a level head and having fun with it. 
"The biggest thing is always to enjoy it," Cross said. "We always tell the athletes that it feels like a long season, but when you look up, the season's over."