Progress show helps students prepare
FFA held their annual progress show on Jan. 6. It's designed to help students and their animals prepare for the Humble Livestock Show and Rodeo by getting in the ring and learning what more needs to be done with their animal.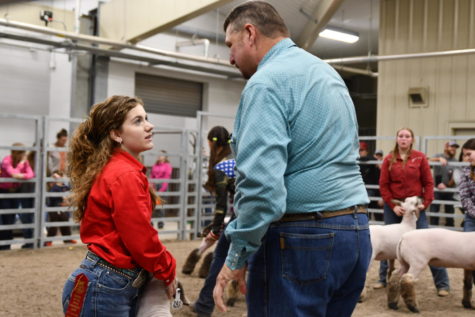 "It's something that I always look to every year," ag teacher Kevin McCarty said. "I think it's instrumental having a judge come in and tell kids basically the same thing that I'm telling them, kind of helps to strengthen these kids' confidence but also remind them that the work is not finished yet."
Over the years little change has been made to the show, but this year the event was held at the new ag facilities, which allowed the show to be better run during the day and even after it got dark, due to the lighting and a covered ring. Another change is having the show be on a Friday, which they hoped would make it easier for students and increase involvement of the show.
"I'm hoping that they gain a sense of confidence, they see that hard work really does pay off and get a renewed sense of commitment and dedication," McCarty said.
Junior Kelly McMahan, who won grand champion at the progress show with her steer, likes how organized the show was and hopes that it stays that way. But she also prefers the shows that start in the morning because the show ran from about 5:30 to 11:30 p.m.
The Humble Livestock Show will be held the week before February break. From the Progress Show, students had three weeks to change what they need to on their animal, a change from the 60 days they used to have.
"I like [the progress show] because I get feedback on my animal before the big show and I can fix what I have to do," McMahan said.