Boys swim team ready for spotlight at State Meet
The boys swim team finished in third place at the region meet, only two points out of first place. It was the closest finish between the top three teams that coach Greg McLain has ever seen.
With the strong outing at Regionals, nine swimmers and one diver qualified for the State Meet. The young squad with only two seniors is determined to bring the heat to the State Championships this weekend.
"I think just motivation is the key for us this year," McLain said. "They're all very motivated in different ways. Our seniors are motivated to finish out their career strong, our younger people are motivated to establish themselves on the state scene." 
The State Meet will be held Friday and Saturday at the University of Texas-Austin. The boys swim team has advanced to state each of the past 16 years, capturing the title in 2009, 2010, 2011, 2015 and 2020. 
The seniors  – Joe Stephenson and Chris Rosser – were freshmen the last time the team won the state title. With the help of their younger teammates, Stephenson and Rosser put the team in contention for the Region title by becoming the only school at its regionals to advance all three of its relays to state.
The boys won the 200-yard freestyle relay in a time of 1.28.83, with Rosser on the team alongside juniors Ian Maxwell, Logan Gonzales and Sean Kloesel. 
The 400-yard freestyle relay (Rosser, Stephenson, Maxwell and junior Logen Black) took second place in a time of 3.14.38. And the 200-yard medley relay (Stephenson, Gonzales, Kloesel and sophomore Gabe Fabrizio) took third with a time of 1.40.18.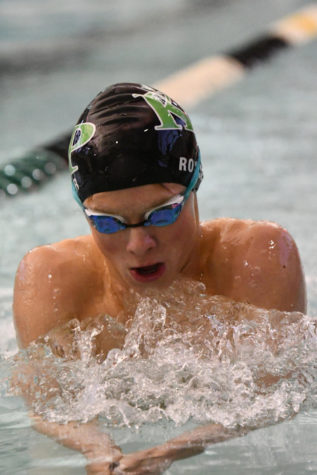 "If you were to ask me last year if our team would have been in this position that we're in today, I probably wouldn't have believed it," Rosser said. "So I was so surprised, really proud of a lot of guys for stepping up and working hard this year and being able to do my best."
Relays weren't the only races in which the boys took home gold. Stephenson placed first in the 200 IM with a time of 1.55.26. In the 50 freestyle, Rosser won with a time of 21.07. And Fabrizio won the 100 butterfly in a time of 53.25. 
"It's always an honor," Stephenson said. "It's like everything I worked for all season, it's kind of paying off."
There was only one swimmer who advanced to the state meet for diving. Junior John Carr placed third in 100 meter diving with a score of 280.55. This will be Carr's first time at state. 
"I was at the district meet when I broke my personal record, and it was like, this could happen," Carr said, "I felt really proud of myself because of how hard I've worked toward it, and I feel like I deserved it."
With such a young squad, McLain said it has been fun to watch them surpass expectations.
"This is a team that's just trying to go up and do the very best it can," McLain said. "And in a lot of ways that's an easier team to coach and it's more fun for them because they can just let it all fly and not have the stress of trying to win a team title."
Whatever happens this weekend in Austin, it is certain the team will add to its storied history and create memories for a whole new group.
"There's nothing like the state meet," McLain said. "It's in one of the best pools in the world. The University of Texas natatorium is a great facility and we have so much history there. When I go into that building, I really think about all the teams of the past and all the teams that came before so it's really just a neat experience to watch these guys swim under such bright lights."
** Bailey Hall and Kaitlyn Sitton contributed to this story.