UIL academic team advances 18 to Regionals
The UIL academic team found success at the district meet at Porter High School on March 25. The group took home four team titles – journalism, social studies, calculator applications and science. In total, 18 students advanced to the regional competition in Dallas on April 21 and 22.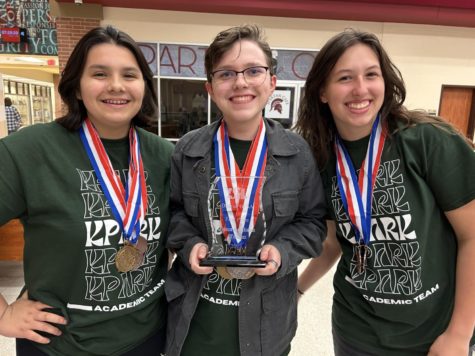 "The academic team can be a lot of work, but I've had a lot of fun this year, and it's a good time," said sophomore Fallon Head, who won first place in feature writing and editorial writing. 
The Academic team is a UIL activity that consists of a variety of events, ranging from current events to spelling and vocabulary to headline writing. Students prepare throughout the year by competing at invitationals before the big district meet. Students who place high enough can advance all the way to the state competition at the University of Texas on May 17-18. 
Senior Ryan Eckerty, who advanced to the academic state meet as a junior, won three events at the district meet and placed in five. 
Head competed in five events total – winning two and advancing to regionals in four .
"This is my first year doing it and having being able to place and advance to region my first year is just unbelievable," Head said. 
Senior Adam Wolf has advanced to the regional meet all three years he has been on the team. He advanced in Copy Editing as a sophomore and math as a junior. This year, he advanced in both Math and Calculator Applications. 
"I just had to get out of the initial worry and commit to the test," Wolf said. 
Other individual district champions included juniors Dana Herrera (current events), Alice Early (social studies), Maya Ortiz (news writing) and Max Leal (computer science)
This was Leal's first year on the academic team, but that hasn't held him back from success. Along with his individual title, he helped the computer science team to a second place finish. 
"The hardest was probably the team event where you have to code," Leal said. 
See below for the full list of team results from the district meet.
Team Results
Social Studies Team 1st Place – Valentina Garibay-Arroyo, Alice Early, Caitlin McLain

Calculator Applications Team 1st Place – Derek Herrera, Bryce Chrisman, Adam Wolf, Sloane Meeks

Science Team 1st Place – Ryan Eckerty, Derek Herrera, Bryce Chrisman, Elijah Merino, Vuong Nguyen

Journalism Team 1st Place – Maya Ortiz, Fallon Head, Shelby Townsend

Mathematics Team 2nd Place – Derek Herrera, Bryce Chrisman, Adam Wolf, Sloane Meeks

Current Events Team 2nd Place – Dana Herrera, Rain Bauquin, Kishi Manuel, Elijah Merino, Camilla Escobar 

Literary Criticism Team 2nd Place – Ryan Eckert, Constance Streitman, Caitlin McLain

Computer Science Team 2nd Place – Max Leal, David Geslison, Vuong Nguyen
Individual Results (First, second and third place advance to regionals)
Dana Herrera – 1st Place Current Events

Ryan Eckerty – 2nd Place Ready Writing, 1st Science Overall, 1st Biology, 1st Physics, 6th Literary Criticism 

Fallon Head – 3rd Place Read Writing, 1st Feature Writing, 1st Editorial Writing, 2nd News Writing

Adam Wolf – 2nd Place Calculator Apps, 1st Math

Sloane Meeks – 5th Place Calculator Apps

Derek Herrera – 6th Place Calculator Apps, 4th Science Overall, 4th Math

Alice Early – 1st Place Social Studies

Caitlin McLain – 6th Place Social Studies

Constance Streitman – 3rd Place Copy Editing

Shelby Townsend – 3rd Place Feature Writing, 6th Headline Writing

Maya Ortiz – 4th Place Editorial Writing, 5th Feature Writing, 1st News Writing, 5th Headline Writing

Max Leal – 1st Place Computer Science 

David Geslison – 5th Place Computer Science

Richard Beal – 5th Place Lincoln-Douglas Debate

Samia Wilson – 1st Poetry Interpretation, 5th Informative Speaking

Exa Nix – 6th Prose Interpretation

Alyssa Montelongo – 5th Prose Interpretation

Caitlin McLain – 6th Informative Speaking

Tate Derhaag – 3rd Persuasive Speaking