Color guard performers take 3rd at area competition
The color guard competed in their final competition at the area championships on March 25. After several months of rehearsal, they competed against 11 different schools across the area at Klein Collins High School.
Band director Bre Osbourn wanted to do this show for the past couple years, but thought this current group of kids would be the best fit for it.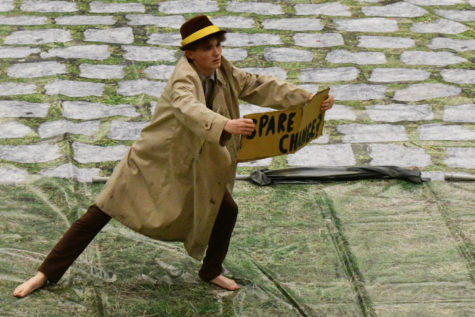 "[Our] show this year was 'Be the Change You Want to See,'" color guard director Esber Ramos said. "It was basically describing about how little acts of kindness around the world go a long way and it takes a village to get there."
They performed the song "Eleanor Rigby" by The Beatles.
"I picked this show because these kids, they're very kind to each other and I feel like they had the ability to portray this kindness in their show," Ramos said. "I thought it would suit the kids here."
Going into the competition, the guard was nervous because it was their final competition of the season. 
The guard earned third place – the highest they have placed in years. Each member went home with a bronze medal and the guard earned a trophy. 
"It was kind of a moment where all our hard work was finally getting worth something," freshman Katy Bollman said.
Since this is Ramos's first year as a teacher, it was very emotional for him to see all of his hard work paying off, and he hopes that they keep loving what they do.
"It's very emotional because a lot of the times in my life I've had to fight so, so hard and the outcomes have never been the best," Ramos said. "This is the first time in a very long time that I can truly say that I am proud of myself. I would say I'm a very insecure performer, so [it's great] to see a bunch of kids slowly start to love something that was a passion inside of me."