Beal makes history as first Kingwood Park angler to reach State
Modern day bass fishing competitions are an event where anglers compete against one another during a predetermined period of time for cash or prizes. Tournaments typically start at first light and last for six to 10 hours, depending on the time of the year and the organization holding the event.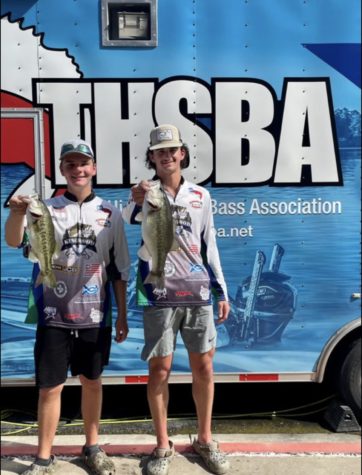 Though this is a very cut-throat and competitive competition, sophomore Richard Beal has beaten the odds and is on his way to the THSBA (Texas High School Bass Association) for the Texas state tournament in May. He is the first Kingwood Park angler to reach State. 
Beal has been fishing since the age of 4 and has been on the school's bass fishing team for the past two years. Now, he's living his dream. 
"It will be a really fun competition and difficult to succeed but we will try our best," said Beal, whose teammate is Perry Campbell from Summer Creek. 
Beal and Campbell have been successful throughout the year. Their biggest fish caught so far was an 8½ pound bass caught on Lake Somerville. 
Beal puts in much effort when he is about to go fishing on a lake. While some may think bass fishing is just about luck, a lot of research is put into preparing for a tournament. 
"Most of the research done is for knowledge such as, where the fish are, what they are biting on at that time of year or for the different types of weather," Beal said.
He spends a lot of his free time studying, researching his upcoming competitions and the lakes they'll be fishing on. 
Not all teams are willing to put in this amount of work and effort. Just like in other competitions, cheating is prevalent in the fishing world. Different ways teams are able to get an unfair advantage on their competitors includes shoving weights down the fish's throats to make the fish weigh more or they do even more elaborate schemes.
"Some teams go out a couple days before the tournament to catch a bunch of fish, put them in laundry baskets, zip tie them together and sink the laundry baskets down to the bottom of the lake," Beal said. "Then on tournament day they would catch the laundry basket, reel in the fish and re-catch them."
The cheating frustrates Beal, but he focuses on his own research and preparation. His hard work this season has paid off. 
The state tournament will be at Sam Rayburn Lake outside of Lufkin on May 20-21. 
"It's a great opportunity to do something you love competitively," Beal said, "and win some scholarship money."