During the summer, the band got their usual month and a half break from the stressful year. Some spent it sleeping, some were on vacation, but three individuals spent it with a band.
Drum Corps International is a professional marching band organization. Different bands from across the country go on a mini-tour, playing whatever show they have for that year. The bands consist of brass instruments, percussion instruments and a color guard.
Sophomores Ean Osbourn and Joey McCreight as well as junior Andrea Palmer each joined a group.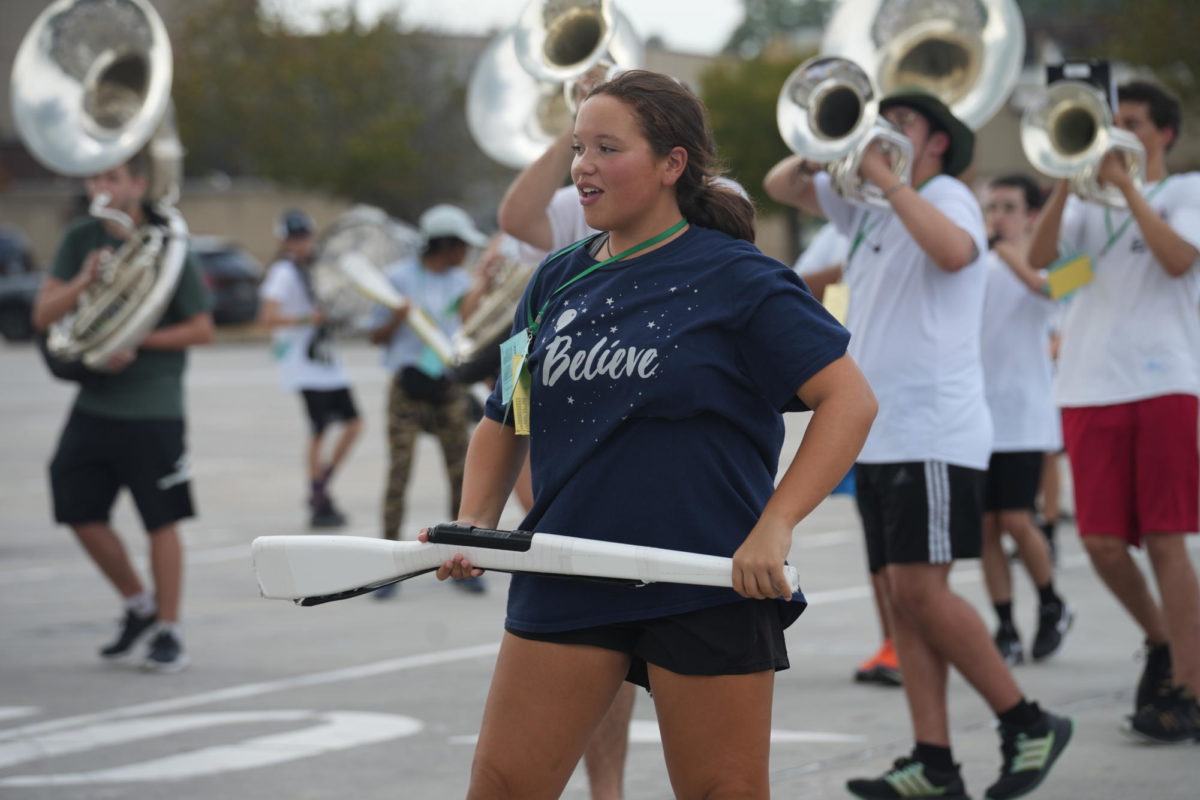 For McCreight, his dream became a reality with an email. McCreight's sister joined DCI in the 2019 season. That started his love for drum corps. He fell off of it when the pandemic came. During his freshman year, however, director Bre Osbourn brought a corps to the school to practice.
"I liked the showing that she did here and stuff and all that," McCreight said. "And then having [Carolina] Crown at our sight as well [was influential]."
Around March, McCreight got an email from the Seattle Cascades inviting him to try out. Since he wasn't interested in joining that corps at the time, he just ignored it. Then on May 22, McCreight got an email from them again. He called the corps director and did a quick audition. The next thing he knew, he was a mellophone player for the Cascades.
"I decided to join the Cascades because they are world class," McCreight said.
Within McCreight's first week in the corps at spring training in Oregon, an illness was floating around. McCreight caught the illness and had to be quarantined for a week.
"It was just horrible," McCreight said. "I was by myself for two days with nothing to do, just in a room."
It was worth it, though, when his team ended its season at Lucas Oil Stadium in Indianapolis. The stadium made it easier for the band's sound to start to separate but they quickly adjusted the sound to the 40,000 people and their cheers.
"It was really cool, it's a huge stadium," McCreight said.
With McCreight throughout the summer was junior color guard member Aundrea Palmer. She joined the Cascades and almost instantly felt like quitting.
"I was having a really hard time," Palmer said. "I didn't have many friends. And it's really hard to make friends with older people, especially being one of the youngest ones there. Just the first couple of days was really rough."
For Palmer, the best thing she could do is just let time pass and constantly push herself. She eventually made friends in the program despite being one of the youngest. 
"It just got better over time and I made friends," Palmer said. "You had to wait it out."
Another guard member took his mom's hobby and made it his reality. Ean Osbourn first saw the Carolina Crown perform in 2015. Ever since then he has wanted to join. Over the summer he joined the Colts which are located in Iowa.
"The guard director there got second at WGI finals, so I knew that he knew what he was doing," Ean said.
A memorable moment for him was when DCI was in Houston.
"I walked into the stands and my mom was crying," said Osbourn, whose mom directs the Kingwood Park band. 
Leading up to that wasn't easy though. Similar to the other two, he was one of the youngest there.
"Most of the guard was veterans, so they already knew what was going on," Osbourn said. "They were teaching the rifle work, and I was like, 'oh my gosh.' I just wanted to go home."
Other than the fact that his parents wouldn't let him go home, he knew that it would eventually get better.
Osbourn thinks that DCI was a great opportunity for him to grow more mature and become a better person.
"You get way better at organizing, you develop more patience I guess, and you learn how to put yourself in everybody else's shoes," Osbourn said.