Senior James Pham has always thought school should be fun. Pham grew up all over the Houston area. When he moved to Kingwood for his junior year of high school, he decided he was going to finally get involved at school.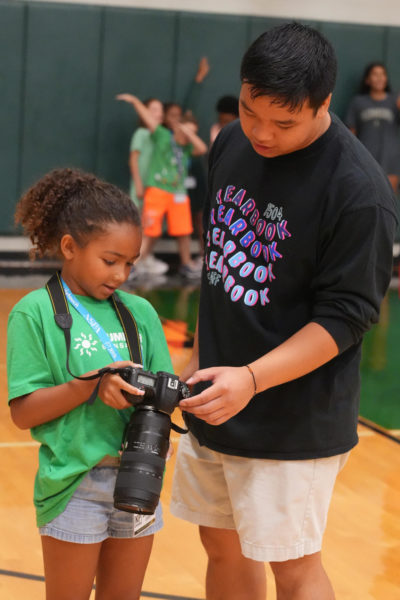 "At my first two high schools, I was just going to school and going back home and it was kind of boring," he said.
Pham always found photography interesting, so it was an easy choice when he saw Kingwood Park had a photojournalism class. 
"I always wanted to get into it, but it was just so expensive," he said. "Just getting decent equipment is almost $1,000, and so I seized the opportunity and joined photojournalism." 
Any chance Pham got to take photos he would. He volunteered to take photos at homecoming, volleyball games and football games. He followed HOSA on a field trip and he took photos of labs and rockets in classrooms. He wanted to learn and have fun. 
Pham only stayed in the photojournalism class for a semester before moving onto the yearbook staff. He chose to move classes to get more experience at a quicker pace. 
He made an immediate impact on staff by taking on as many assignments as he could. He also asked a lot of questions as he worked to become a better writer, photographer and designer. 
"Beyond just work, though, I think he lightened up the classroom," said Katie Gerbasich, who was last year's yearbook editor-in-chief before graduating in May. "Sometimes we could get very focused so he always found ways to make us laugh." 
Pham said his biggest supporter in his first semester on staff was Gerbasich. 
"She made it really fun," he said. "Each time I had a question, she would always help me out and show me."
Gerbasich became his mentor and shared her four years of journalism knowledge with him. She worked with him throughout the second semester. She also helped answer questions throughout the summer as he prepared to create this year's book.
"Being able to help James this summer has honestly just given me so much joy," Gerbasich said. "You can tell he wants to be the best leader possible through the millions of questions." 
Now, Pham is co-editor-in-chief with Arleigh Doehring and has taken over the leadership role that helped him so much last year. He hopes to make the class more fun, and he wants to make sure all the yearbook staffers feel proud of the yearbook and themselves when they hand it out in May. 
"He puts so much effort into trying to get everyone involved and help them be successful on staff that it's been really fun to watch," journalism adviser Megan Ortiz said. "He definitely leads like someone who has been in the program for four years. It's crazy to think he has only been here for a year."