Woods works to stay safe, adapt to masks
While hearing people have learned to adapt to the minor inconveniences of masks, the deaf and hard of hearing have to also adapt to losing a key source of communication by covering facial expressions and losing their ability to read lips when needed.
"The intent of a message is based on facial expressions and non-manual signs," Darnell Woods, American Sign Language teacher, said. "With the mask, it's like everyone is signing with a blank face. Facial expressions are the rise and fall of a person's voice."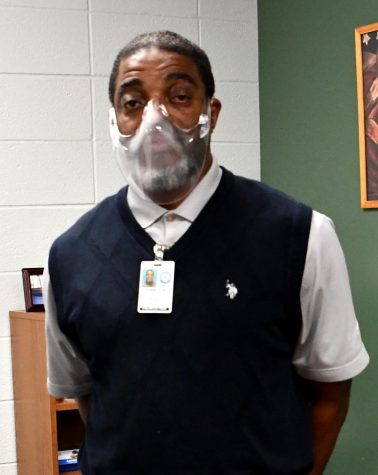 One of Woods' major concerns has been how to communicate at school. He has spent much of the past lip reading. He said some teachers are accommodating and lower their mask so he can see what they are saying, but others do not want to risk it. Also, some of the teachers on campus already know fluent ASL, which is helpful.
Being able to communicate with staff members and students isn't the only struggle Woods faces at school. He wears a clear face mask that gets in the way of him being able to properly sign. Woods said he always hits and pokes it while signing.
Woods takes all of the concerns for safety seriously. Earlier in the pandemic, Woods' mother spent 70 days in the ICU and another 20 days in a rehabilitation center due to COVID-19. It was a very emotional time for him and his family.
"She is on a full road to recovery, slowly but surely," Woods said.
Even though there are communication barriers between the hearing and deaf communities, Woods said he hopes one thing hearing people will remember is empathy and patience.
"Be willing to write, type, or even gesture if you can," he said. "Having patience is what I model daily."
Despite all the challenges, Woods is optimistic.
"Our community has experienced some hard times over the past few years," Woods said. "If any people can overcome the current situation, it's us. We got this."