Zoo's new exhibit offers perfect escape
The Houston Zoo's new exhibit gives visitors a rare experience. Visitors can quickly forget they are in downtown Houston as they walk along the cracked pathway and read the "road signs" leading to the bright sign announcing "South America's Pantanal" exhibit.
The exhibit took approximately four years to plan and build, and it shows. It is unlike any exhibit the Houston Zoo has ever created. With a walk-in aviary, a jaguar bridge and many new viewing options, visitors receive an interactive experience while visiting the 4.2 acre exhibit.
Most guests come to the zoo to see all different species. In the new exhibit, the zoo introduces giant river otters for the first time. Guests may also get the chance to see the otters playing or sunbathing in their habitat.
Another species that guests will enjoy seeing is the oropendolas birds. The birds have built large teardrop shaped nests in the aviary, and guests can see them fly overhead. The blue-throated Macaws and the blue-billed curassows are some of the most endangered species in the new Pantanal exhibit.
One of the most impressive parts about the true Pantanal in Brazil is the biodiversity. The Houston Zoo does a great job of showcasing it with 51 different species in the new exhibit.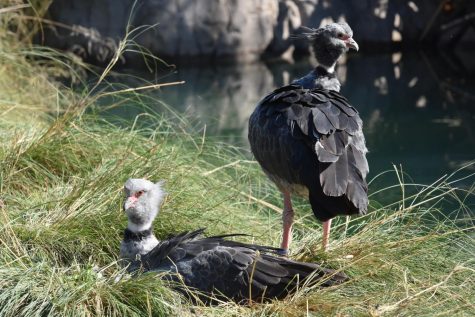 Specifically in the birdhouse and the mixed-species habitats, guests have fun trying to pinpoint all the animals in a single exhibit. Every time guests look up in the aviaries, they find a different type of bird.
Not only did the zoo take the visitors into consideration, but they also took the animals into consideration. The Houston Zoo made sure all the habitats in the new exhibit are multi-use spaces for the animals and have areas for the animals to move out of view if they don't feel like being seen.
There really is something for everyone in the new exhibit — from golden lion tamarins and howler monkeys to an anaconda and a jaguar. The new exhibit has tapir, capybara, and a giant anteater. Guests also will be impressed with the stingrays and turtles.
Overall, this is a perfect time to visit the new exhibit and enjoy the entire 55-acre zoo. "Zoo Lights" is currently going on until Jan. 10, so it is a great time to come to the zoo. Guests should plan to spend a good amount of time seeing all the animals to get the best experience, especially at the new Pantanal exhibit.
Due to COVID-19 precautions, guests do have to make reservations for tickets online. Visitors also are required to have a mask on during their entire visit.