Choir hits high note with burrito-eating competition
As his competitors continued scarfing down food, senior Aaron Dhooghe stuck his tongue out to signify he finished his burrito and cinnamon twists. He won the choir department's burrito-eating competition, an honor the program's lone all-state singer didn't take lightly.
The contest was part of choir director Ben Fahnders' attempt to add some levity in a year that has been challenging for his students because of pandemic restrictions. 
"I just wanted to do something fun and silly because this year is anything but fun and silly," Fahnders said. "I don't know, I just needed that."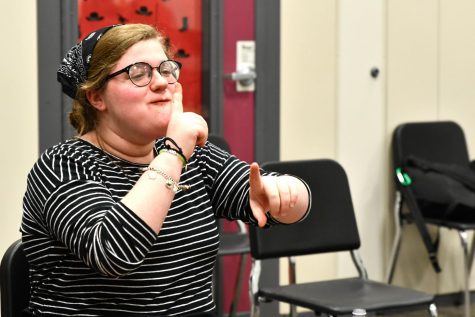 Fahnders had a student about eight years ago who always joked about a burrito-eating competition. This year he decided to make that inside joke a reality. He bought bean burritos for the first round of the competition on Jan. 7. The finals were held Jan. 14.
"It was always a laughable thing like, 'We'll never do that. Haha,'" Fahnders said. 
Until now. A champion has officially been crowned.
Dhooghe, the ultimate burrito-eating champion, joined the competition because he thought it was silly, and his friends have told him he is a fast eater. In the first round, Dhooghe's plan was to take bites as big as possible, but that ended up slowing him down. He still did well enough, however, to advance to the second round, where he took slower and smaller bites. 
"[I thought] I would have to try to convince a kid not to try to swallow it in one bite," Fahnders said. "But instead, they all had well-thought out plans."
While Dhooghe said the first round of the competition could have had burritos with a better consistency, he really enjoyed being able to spend time with his friends.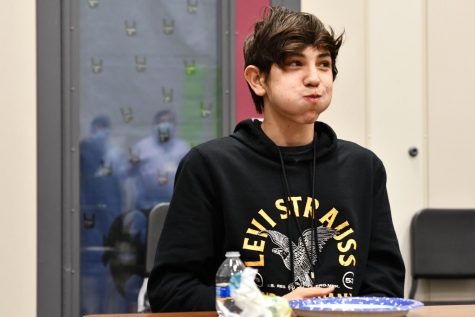 "I had a lot of friends who came, watched me and filmed me during it," Dhooghe said. "So there are a lot of pretty cringy videos of me shoving a burrito down my face."
Fahnders was not one of the seven participants in the competition. He did, however, participate in the Mario Kart competition he held on Jan. 28. 
"I am trying to maintain at least the smallest thread of dignity right now," Fahnders said. "Plus, I didn't want the kids to feel bad when I destroyed them. That's maybe a more real answer."
The choir room is going to try to do different activities every Thursday during flex hour.  Due to COVID-19, the choir department can only sing for so many minutes, they are constantly disinfecting things and they have to sit far apart with masks and face shields. There are not a lot of opportunities for fun when every minute is regulated. 
"Sometimes you just need a burrito," Fahnders said. "And sometimes you eat a burrito as quickly as possible, and so I am happy I could aid those children in their need for burritos."