Maddie Sandquist returns to spotlight
A strong girls team is led by the 138-pound state champion, who looks to defend her title.
Senior Maddie Sandquist had imagined it a thousand times. The roar of the crowd, the anticipation, and the pure exaltation had run through her dreams time and time again. These dreams came to fruition on February 22, 2020, when she won the 138 pounds 5A wrestling state championship. 
"It was awesome, almost surreal," Sandquist said. "It was my goal, I had pictured it a thousand times. I knew what I wanted, and I knew what I had to do. Everything I had worked for had finally come to a close and I felt amazing — amazing and hungry."
"
I had pictured it a thousand times. I knew what I wanted, and I knew what I had to do. Everything I had worked for had finally come to a close and I felt amazing.
— Maddie Sandquist, on winning the state title in 2020
On the day of the tournament, Sandquist could barely eat. She was so nervous she threw up before her match. She had spent the past few years working toward this one match. When it finally arrived, she struggled to stay focused because she was still cutting weight and feeling the pressure of chasing the title.
"Making weight, it really sucks," Sandquist said. "You always have to be thinking of what you're eating, how it makes you feel, how it shows up on the scale. It can lead to bad habits, which is hard on top of a hard wrestling mentality. You have to keep a good mentality because it's just you on the mat."
Wrestling coach Jeff Knight has coached at Kingwood Park for 11 years. Sandquist was his first state champion wrestler and only the second one in Humble ISD. 
"I knew the hard work that Maddie had put in to win a championship was going to pay off for her," Knight said. "I believed that she had faced the toughest competition of anyone in the state, and I just wanted her to be healthy and have the opportunity to wrestle for gold. I was so proud of her and that she had truly earned the title of being the best in Texas. Being a state champion means you will always be considered a great wrestler."
After her first taste of victory, Sandquist intends to come back even stronger with the support of her team. The team has struggled greatly after the impact of COVID, losing a few members and graduating seniors.
"We graduated a good amount of seniors, so we got really small," Sandquist said. "A lot of people didn't wrestle because of COVID, so it's hard to recruit. Six girls last year wasn't a lot of girls, now we only have four. Our boys' team is struggling, they don't have a big team or a lot of experience. They're working really hard, but it's a hard sport."
The season typically starts in November and lasts until February. This year, it was postponed once to February and then again to March. The season started March 3 and the state championships are scheduled for April 23-24. As such, there will be fewer matches wrestled, giving wrestlers less time to prepare for districts.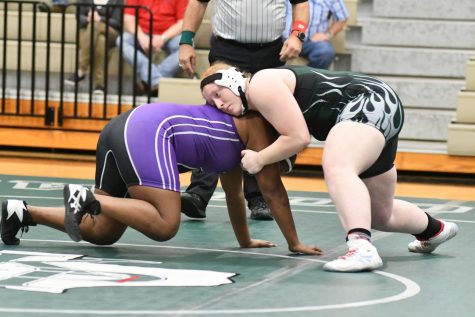 "With COVID it's been super frustrating how delayed our season has been this year," junior Lexi Shannon said. "Since they delayed it almost cut our season in half. We don't have any tournaments this year which is where most of the girls' matches come from. For example, I will be going into the postseason having wrestled only 5 matches whereas last year I had more like 20." 
Sandquist has been wrestling since 8th grade, and during the season she can get anywhere from three and a half to four hours of practice a day, both at Kingwood Park and at her club wrestling program, Rise Wrestling. 
"I got extremely lucky when COVID hit," Sandquist said. "I was given a lot of opportunities that have been out of the norm, both club practices, and tournaments. I got a lot more practice than I normally would have. I got to travel and go on college visits. I was able to get like 25 matches outside of the season.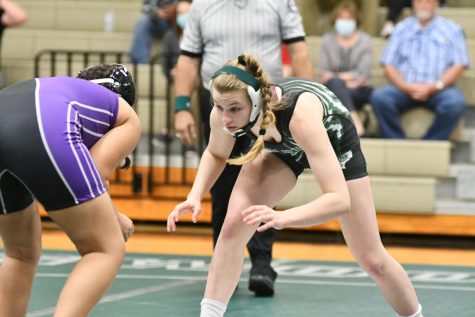 "A lot of people have to knock the rust off, but I've been lucky that I don't have to. I feel prepared almost to the point that I'm excited for the end of the season because I've been working hard and been anticipating this for a while."
Sandquist has been feeling the pressure, however. At every tournament she goes to, people come up to her asking for advice and if she thinks she can win again. All eyes are on her when she wrestles. 
"If only I had a dollar for every time I got asked (if I'm going to win state again)," Sandquist said. "There's a lot more expectations and eyes on me. I try to tune it out, it makes me nervous."
The girl's team has the goal to take the state tournament by storm this year, and they have a decent chance of winning. Three wrestlers – Sandquist, Shannon and Madison D'Urso, 12 – all have state tournament experience.
"Lexi Shannon has gotten really good and been doing a lot of extra training, we've gotten close," Sandquist said. "She scares me, she's gotten so good. I'm pumped to watch my whole team wrestle. Madison D'Urso, she moved here from Kansas, and Parker (Wardlow), our freshman. I get more excited for everyone than myself." 
Knight has high hopes for the season. Practice is intense, with lots of drilling, conditioning and sparring in order to help the athletes get better.
"
The qualities that make Maddie a champion are tenacity and determination. She sets a goal and does whatever she needs to do to reach it. She has a great work ethic and is mentally and physically tough.
— coach Jeff Knight
"The qualities that make Maddie a champion are tenacity and determination," Knight said. "She sets a goal and does whatever she needs to do to reach it. She has a great work ethic and is mentally and physically tough. 
"Wrestling is special because it teaches self-confidence and toughness. You earn success by putting in the hard work. It is entirely up to you. There is nowhere to hide on the mat, it is just you and your opponent.  It is the toughest sport in my opinion."
Sandquist said she is concerned about COVID, describing the wrestling season as a "survival of the fittest." 
"You could get your whole postseason taken away from you just by being a close contact," Sandquist said. 
With this in mind, Sandquist just gives her all every day and practices safety precautions. 
"A lot of a time I'm seen as an example," Sandquist said. "I don't want to slack off because I'm setting an example or trying to. It can be hard but it's still really good. There's always going to be people that can beat me, so I always have to work hard."
Knight encourages anyone considering wrestling to just give it a try. It's a chance to represent your school and better yourself, both physically and mentally.
"To just give it a shot and see how intense and exciting it is," Knight said. "We let our wrestlers know that we will give anyone a shot and we never cut anyone from the team.  It is a great way to earn a varsity letter and recognition. Employers and colleges immediately know that if they see you were on a wrestling team then you have the characteristics of hard work, toughness, dependability, heart and determination."
Sandquist embodies all of those characteristics, which helped her become a state champion as only a junior.
"It's all about mental toughness and confidence," Sandquist said. "I gained a lot of love for myself and confidence in everything I do because of wrestling. All the people I've met are so cool, wrestlers are the coolest people I know. You learn a lot of lessons and learn how to push yourself.
"I hope I've left an impact that can remind people that they can do what they really set their mind to. I didn't start super early. Set your own goals and work as hard as you can to reach them. I do so much extra stuff and that's gotten me to where I am today."