Community cherishes the boys soccer team's journey to championship game
While Kingwood Park has crowned a number of state champions in its 14-year history, the support system is strong as soccer seeks its first.
Robert Ricker held up a giant red card with his younger son after senior Jesus Cervantes got tripped two minutes into the second half. Robert, whose oldest son Trey Ricker is a junior on the team, made these signs as a "polite" way to tell the refs what they should call during the game. His son Jack was eager to help support his brother's team by waving the signs.
"
They have brought some normalcy to a very difficult year. I'm very thankful we can focus on some positive things, and this is definitely a positive.
— principal Lisa Drabing
Despite the game being played on a Tuesday night and taking place three and a half hours away, family members, friends, alumni and classmates created a sizable cheering section to support the boys in their state semifinal victory over Pharr Valley View. A large contingent is also planning to travel to Georgetown on Saturday for the 5A state championship game against Frisco Wakeland. 
"They have brought some normalcy to a very difficult year," principal Lisa Drabing said. "I'm very thankful we can focus on some positive things, and this is definitely a positive."
Tammy Smith couldn't stop smiling in the stands as she watched her son Jeff play defense. After sustaining a broken collarbone halfway through the season, Jeff Smith was back on the field for the state semifinals game.
"To see him out there tonight just meant everything to me," Tammy Smith said. "The longer we played the more of a chance it has given him to get out there again. Now I got to see him on the field tonight with his team, so that just made me the happiest mom ever."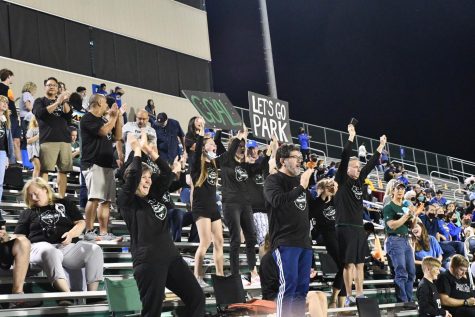 For Tammy Smith, this season has been memorable and unbelievable because the team was able to overcome all the challenges that it carried over from last year. The team was undefeated and ranked No. 1 in the state when the playoffs were canceled in 2020 because of COVID. They are 47-2-2 over the past two seasons.
"I think these guys really perform as a unit, they are really tight knit," said Drabing, who has attended every playoff game. "I think they are playing for each other. I think they respect each other, and so I think that is an intangible that doesn't show up on any stats but is going to get you a lot of wins."
Drabing, a former coach, recently announced her retirement and is cherishing what will be one of her final state tournament appearances as a principal. 
"I think everybody knows those state championships are something I really value because it showcases our kids' talents," Drabing said. "To be there for so many years in so many sports for such a new high school is absolutely incredible.
"In a lot of ways since we've had so many teams get there we forget how difficult it truly is. It's huge."
Unlike other parents, Bruce Yeager knows exactly how difficult it is. Bruce has had three sons go through the boys soccer program. Each got close to the state tournament, but junior goalkeeper Thor Yeager is the first to reach the ultimate goal. 
After the team posed for pictures and walked off the field, Bruce Yeager stood along the railing yelling to Thor and his teammates. He raised a fist, clearly emotional. 
"That's how we do it, gentlemen," Bruce Yeager said.