Experienced wrestlers return to state championships
Senior Maddie Sandquist will make her fourth trip to state while junior Lexi Shannon will make her third appearance.
Senior Maddie Sandquist not only looks to defend her state wrestling title on Friday, but also dominate her bracket.
"I've wrestled most of the girls and I don't want to sound cocky, but I know I'm the best going into the state tournament," the four-time state qualifier said. "It's mine to take. I want to make sure I'm on my best game so it doesn't go a way that it shouldn't."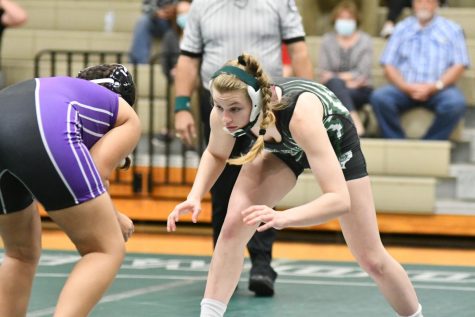 As the top-ranked wrestler in 5A at 138 pounds, Sandquist said it's an expectation she wins it all again. She is the best wrestler in Humble ISD history with 162 career wins, four district titles and three region titles. 
Friday, she will compete at the Berry Center in the UIL 5A Wrestling State Championships, along with junior Lexi Shannon, a three-time state qualifier.
While Sandquist is ready to get her first match underway, she said she is most excited to cheer on Shannon, who is looking to capture her first title. 
"Maddie is always there pushing me and wrestling, but also keeping me focused. She is always there as someone to talk to," said Shannon, a top-seed in the 215 pound weight class. "We have each other's backs."
Shannon (25-1) and Sandquist (27-0) were both region champs for their respective weight classes this year and return as two of the most experienced wrestlers at state. 
"I think if it was my first year, going into state would be kind of scary," Shannon said. "But since I have the experience there's nothing that's going to bother me about it, and I'll know what to do."
What she wants to do is win, show how much she's grown this year and prove what she is capable of on the mat. She placed seventh as a freshman. As a sophomore, Shannon went into the state tournament with a broken toe and an ankle that required surgery just a couple of weeks later. She wrestled through the injuries and placed 12th.
With her first region title behind her, Shannon said she feels good going into state, but knows that nothing is guaranteed.
"Anyone could beat anyone on a given day, so I have to put myself back into my focus state and just take it match by match," Shannon said.
The state championships usually span two days, but will be held entirely on Friday because of COVID. Sandquist, who is still deciding where she wants to wrestle in college, cannot believe her high school career is a day away from ending. 
"It's crazy that my time with KPARK wrestling is already almost over," Sandquist said. "This year my biggest focus was completely getting myself on a different level for college wrestling next year — looking beyond the state championship and looking at national championships."