Home run King
With the regular season entering its final week, senior Matt King has already broken the school record for home runs and RBIs.
Wake up, lift, baseball, eat, sleep. Repeat. This is more or less Matt King's everyday schedule. The senior shortstop and pitcher lives for baseball.
"My ultimate goal is to end up in the MLB," King said. "I've already had some interest."
With any potential of the MLB being a few years away, King settled for and achieved a more humble goal – breaking the school records for most home runs and RBIs in a season.
"
[Matt King] will go down as one of if not the best players to come through KPHS to this point, and he has given a lot of future varsity baseball players someone to look up to and a level of play to strive for.
— coach Bruce Cox
King, who currently has 10 home runs and 56 RBIs, is a leader on the baseball team and takes that role seriously. He does his best to mentor underclassmen and be a role model.
"Matt King is one of the best players I have ever coached," Cox said. "It is not just his skill set that makes him great, however. He is a great teammate and a great leader. He is an amazing competitor with a strong work ethic. He knows how to fail (which is huge in baseball) and he knows how to succeed.  
"He will go down as one of if not the best players to come through KPHS to this point, and he has given a lot of future varsity baseball players someone to look up to and a level of play to strive for."
King holds many qualities Cox looks for in an athlete. He's a team player, tough, passionate and has a deep love for the game.
"The attributes he has that make him an important part of the team are his passion for the game, his work ethic, his coachability," Cox said. "He's a 4-year starter that knows the program inside and out, and he is a confident player. Watching him his freshman season, I knew he was going to be a special player."
King's four years starting means he has a lot of experience at the varsity level, something he uses to both his personal advantage and to help the team. His work ethic and strong leadership skills make him a crucial part of the team.
"To help lead the team… he is just himself," Cox said. "He's a natural born leader and your team always follows your best players. In addition to being a great hitter, he plays shortstop and pitches for us. He does a lot of things for this team on the baseball field and he excels in all of them. Off the field he maintains a strong work ethic.  He is always doing extra.  Extra weights, extra swings, extra reps whatever it is to get better. He is a baseball kid through and through.  That is why he is good at the game."
This year's varsity team is senior-heavy, meaning that the boys have been playing together for the past four years. This has led to a deeper connection between players, and it has also helped them to an impressive 26-5-1 record.
"We have chemistry, it's like a brotherhood," King said. "We bond so well and it carries onto the field. We have a really mature team, so we don't worry, we just go out and play our game."
While the team might be a mature one, that doesn't stop them from having a good time.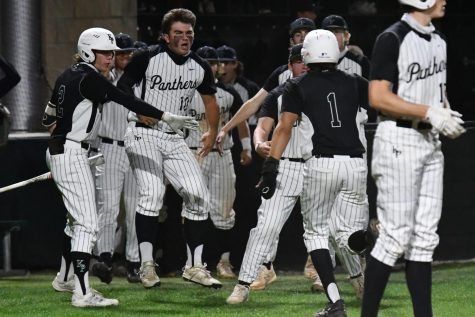 "One of our strongest aspects is our energy," King said. "We try to out-culture other teams, be louder, and have more energy."
King was introduced to baseball by his dad, picking a ball up at around 3 years old and starting to compete at 5. King's family and Cox are his biggest supporters and influences in life. 
"My dad influences me a lot, it was his favorite sport, he put a ball in my hand and took it from there," King said. "My family is sacrificing, not just me.
"Coach Cox also influences me a lot, just because he teaches about life, not just baseball, he's a good person to look up to, he's prepared me a lot for the next level."
Cox has been playing baseball since he was 5 years old, and always knew he wanted a job doing something with it – he views it as a passion, not a career. His passion and dedication to baseball have transferred to his team, and is reflected on the scoreboards. 
"So far this is the best season in school history to this point," Cox said. "We have a long way to go but so far we are doing some awesome things on a baseball field. Our long term goals are a district championship and a state championship.  However, if we worry about winning those… we won't.  So we just take it day by day and do the best we can for each other in terms of getting better."
King has high expectations for his baseball career, having committed to play at UTSA and hopes of someday landing with a MLB team. His time playing in high school was heavily influenced by his coaches and teammates.
"We relate everything in baseball to life and to competing," Cox said. "Baseball will not be a part of these guy's lives forever, so they need to learn about how to take the lessons baseball teaches them and apply them to real life as they mature and grow.  They learn so much from baseball – how to compete, how to be intense, how to focus, how to work for something, and how to work with others to achieve a common goal.  That is why baseball is important – no other reason in my opinion."