Youngest Yeager leaves Kingwood Park early for Alaska
Junior Thor Yeager will follow his family to Alaska to complete his senior year.
Kingwood Park has meant a lot to the Yeagers. They call it their extended family.
There has been a Yeager walking the halls since 2015, when Bruce Yeager was a freshman. Johan and Thor Yeager then followed.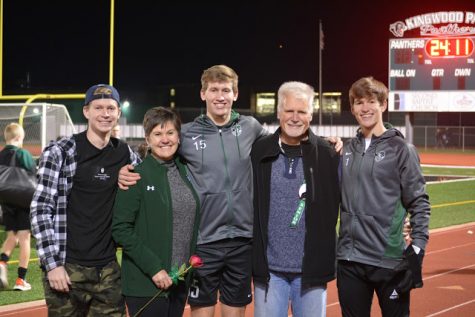 "Growing up, I always watched my brothers' soccer games at KPARK. I always dreamed about playing on the team, like being a big name and getting the varsity soccer experience," said Thor Yeager, who was the primary goalkeeper on this year's team which reached the state finals. "That was special." 
Thor Yeager has attended Humble ISD for the past 10 years. Next week, he will move to Alaska with his parents. His mom, Danika Yeager, took a job in the spring as the vice president of operations and maintenance at Alyeska Pipeline.
"Initially, I was down for it," Yeager said. "I didn't want to make my mom more stressed then she already was with starting a new job. She was going into something she hadn't done before and I didn't want to make it harder than it had to be. She gave me the option to stay, but I told her I would go with them because I knew she would be torn if I asked to stay."
His parents told him the move was a possibility right as the basketball team was starting its playoff run. Yeager was part of the squad that made it to the regional quarterfinals — the program's best season since 2012. 
"After the last game we lost against Katy Paetow, seeing everyone's faces in complete disappointment cause they knew we could have won that game," Thor Yeager said. "It just felt like a family environment after that. I felt a real connection with those guys after that game."
It was after that game, Yeager was told the move was happening for sure. As he processed the news, he focused immediately on soccer. He helped the Panthers reach the state championship for the first time since 2010.
His focus has now shifted with sports seasons ending the school year wrapping up. He plans to play club soccer in Alaska with Cook Inlet Soccer Club. He hopes to play soccer in college as well.
He has also been looking at the local high schools and talking to coaches, but his family knows the adjustment won't be easy.
They moved to Kingwood from Atlanta during Christmas break when Thor was in first grade. He and his brothers went to Deerwood Elementary and Riverwood Middle School before they moved to a different neighborhood just so they would be allowed to attend Kingwood Park.
"I will miss seeing him graduate with all of his friends from Kingwood, but I'm excited for him to make new friends in Alaska." Danika Yeager said. "Good friends don't go away."