Alum finds passion in animal conservation
McKenna Hancock always knew she wanted to work with animals. During her kindergarten graduation, she told her teacher she wanted to be an entomologist, which is the study of insects – a branch of zoology. 
Little changed as Hancock got older. She grew up watching a lot of shows about people who worked with animals, like Steve Irwin the Crocodile Hunter, Jane Goodall, and a lot of bug people online.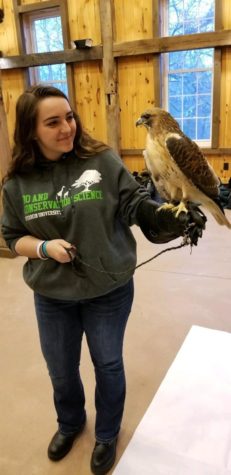 "I grew up constantly wanting to be like those people," said Hancock, who graduated from Kingwood Park in 2017.
Now, Hancock has two degrees: one in zoo and conservation science and one in biology from Otterbein University in Ohio. 
She got her start with internships during high school and college at the Houston Zoo. 
"The Houston Zoo had an opportunity that allowed me to work there and I immediately did that," she said. "Then from there it just bloomed. The Houston Zoo is really who I have to thank."
That is where Hancock first did field work out in the wild and helped many organizations first-hand. In Galveston, she helped build a clam wall to stop erosion at the beach by moving clamshells that were on land into the water. 
"We had to bag all those clamshells ourselves, and we carried them all into the water and piled them up to make a wall," she said.
She also helped remove the invasive Chinese tallow trees from national parks and interacted with the public by teaching them about the animals.
In college, Hancock also spent a lot of her time at the Ohio Wildlife Center, which is a rehab facility for injured animals. If ready after rehabilitation, the animals are released back to the wild.
Hancock got a rabies vaccination, which was mandated to hand-feed bats, and train raptors, raccoons and foxes.
"I really recommend getting rabies vaccinated if you want to be in this field," she said.
Hancock said those interested in working in animal conservation should work at a rehab facility, because of their importance. 
During college, Hancock also spent time in Africa — both in Malawi and Namibia. She spent three months at the Cheetah Conservation Fund in Namibia, where she worked hands-on with livestock guarding dogs. Since cheetahs would come in and kill farmers' cattle, the farmers would then kill the cheetahs to stop them from killing the cattle.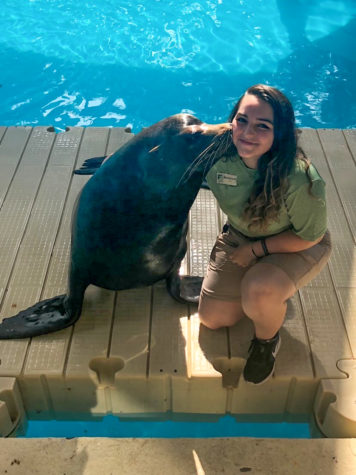 "It is absolutely amazing, and seeing those other cultures is incredibly important to the work of conservation," Hancock said.
In response, the Cheetah Conservation Fund gives farmers livestock guarding dogs, like the kangal shepherds, who bark and scare cheetahs away. The program was started in 1994 and has resulted in much fewer cheetah deaths.
While working there, Hancock helped the dogs deliver puppies, took the dogs on walks and performed parasitology on all of the dogs to see if they had parasites. 
She loved learning about the people in the areas in which they were working and hopes to travel more for conservation work.
"If you don't know what the people need then you can't conserve the animals there," she said. "You have to help the people first and then the people will help you."
Hancock graduated in May from Otterbein University. While the pandemic has slowed travel and therefore hurt job prospects, she continues searching for wildlife biologist jobs and hopes to do fieldwork again soon. 
"I would love to work with bats because they are like one of my favorite things that I've ever worked with and there's a lot of problems with them right now," she said.
Bats need a lot of help because of white-nose syndrome, which is spreading all over the world and is considered one of the worst wildlife diseases in recent times. 
For those interested in careers in wildlife conservation, Hancock said to try to work at local rehab facilities and shelters. She also said the conservation club at the school will look good on a resume too. 
"No matter where you're getting involved in, if you're getting involved with the animals, it's gonna be a good option," Hancock said.