Pop Show packed with talent, fun
At the annual Pop Show, students performed music on the more current and popular end of the spectrum. Solos and group numbers were also granted to students through auditions where they are able to pick and perform the song of their choice. 
"Pop Show covers pretty much everything from pop, Broadway, vocal jazz, the stuff you might see in "Glee," and everything and anything in between," choir director Ben Fahnders said.
After a two-year absence of the Pop Show because of COVID, students were finally able to let loose on stage with not only their vocal acoustics from fun and trendy songs but the visual effects as well. Costume changes, choreography, and black lights were all expected to entertain the crowd.
"It's fun and it's a way to show your talents to people," junior Aubrey Loftice said.
Loftice performed a solo of "Don't You Remember" by Adele. Loftice is in varsity women's chorale choir this year as a junior. She was in the Madrigals choir last year. 
"My solo went really well, I was obviously really nervous but I feel like I sounded pretty good," Loftice said.
After soloists auditioned in the spring of 2020, the show was canceled when schools went virtual due to COVID-19. This year, soloists brought their all in hopes of wowing the crowd.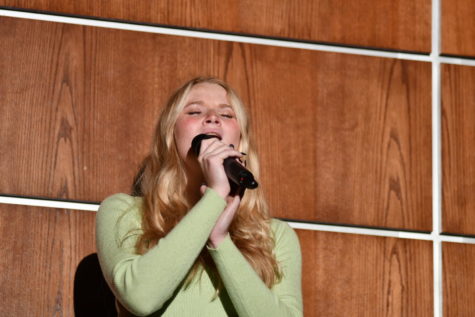 Loftice has been singing since she was 3 years old where she started in a church and then joined various outside music groups. When she reached sixth grade, she joined the choir at Kingwood Middle School.
"I go to a music school now so I write songs and do my own thing and back then it was just me doing covers in my bedroom or singing at church," Loftice said. 
Singing has become a major factor in Loftice's life, especially since she has been singing for the entirety of her life and still continues. She feels she would be nowhere without her musical talent. But with that talent, like all performers, nerves sometimes hit her.
"The nerves can sometimes get to you, especially me, no matter how well I know the lyrics, I still get worked up before but as soon as I start singing, I'm fine," said Loftice.
Loftice takes a huge admiration for Adele, one of her favorite singers. Hence why she chose a song from the one and only to perform her solo to.
"She's powerful and shows your range in your voice," said Loftice.