Black History Month offers time for reflection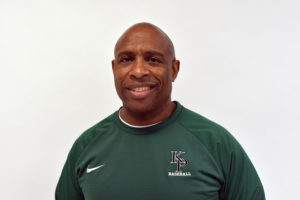 Mack Malone, assistant principal
In the depths of Louisiana, Mack Malone's grandparents were born. They witnessed their parents picking cotton on a plantation and lived through the direful sight of slavery.
As Malone's grandparents raised him, he always remembered the wise words of his grandfather.
"This is what my grandfather said, especially when they went to put in Black History Month. He said, 'You know you're going to be black for 365 days, right? So why do you need one month when you have the whole year? So everyday is your day and what you do on that day depends on who? You.'"
Malone looks up to his grandfather and lives his life using the lessons he taught him. Malone said he tries to be upfront but that students take him the wrong way because he's honest and very forward. But he has always been told – even back when he was coaching – "you're real" and "you're honest." That shaped him into wanting to do better and push for the goals that got him to where he is now.
What does Black History Month mean to you?
"I don't get one month. I get 365 days. God let me be here today, and guess what color I still am? I'm still black. So why can't I be the best I can be today?
"Now do I respect our history? Do I respect all that? Yes, and the people that came before us paved a way for you to have an opportunity to sit in front of me and do what you do. It paved the way for me to sit right here and do what I can do.
"I can sit here and talk Black History Month all I want to, but I want to be an example. The example is that you can get to this spot. But you have to work. I can sit here and talk about MLK. I can talk about all the things he did, but all he did was create a path. Some of us chose not to get on that path. We chose to do our own thing. When you get off of that path where are you going? What are you doing on that path? How are you growing? How are you learning? How are you making yourself better?'"
Rolanda Wilkins, CTE teacher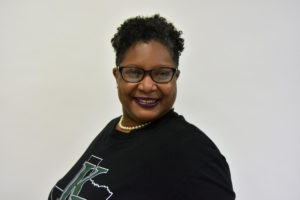 Rolanda Wilkins knew she wanted to be a teacher ever since she was a little girl. Working at Kingwood Park for 14 years now, she continues to take hours out of her time to make lessons for her kids and plan every assignment, activity and projects for the four subjects she teaches.
Wilkins gets her hard work and passion to help people from her parents, who she looks up to immensely. Her parents have always been there for her. They taught her a lot about herself, her family and her culture, which helps her take pride in what she does.
"Everything I do, I try to do directly like them," Wilkins said. "The way I act, the way I deal with my students, and how I deal with people. I'm patient with my mom, but firm like my dad."
What does Black History Month mean to you?
"Black history to me is everything. I don't celebrate black history for just one month. I celebrate it everyday because of who I am. I'm proud of where I come from, I'm proud of my culture, and I'm proud of my family. I know my history, I know my family history. I can go back several generations on both sides. My great, great, great grandfather was a German man who came to Texas and they set a precedent with our family. So for me, celebrating is celebrating it everyday, the little things, the culture, the food I eat, the way I dress, and the way I do my hair. It's just a part of me. Black history is American history."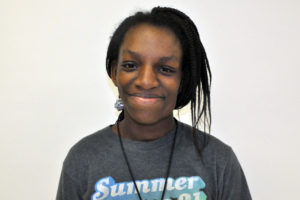 Laqura Jones, freshman
Laqura Jones has always been inspired by her grandmother, who cared for Jones and supported her through everything. Jones's grandmother would always tell her not to worry about anybody else. She gave her a hug everyday after school and helped her with situations at school, including how to deal with bullying. 
What does Black History Month mean to you?
"Martin Luther King always said he had a dream, and so it's important for people to understand what our people went through."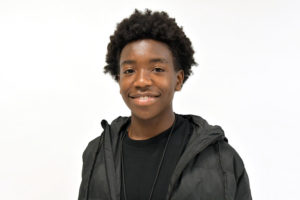 Willie Larry, freshman
Willie Larry, who runs track and plays football, looks up to Martin Luther King, Jr. because of all the things he did for his people. "He didn't take a violent approach to fixing things," Larry said. King is a very important figure in Larry's life. He collects books about him and tries to read and learn from him. Because of King, Larry has a different way of looking at things. 
What does Black History Month mean to you? 
"Black History Month is a time where police shouldn't kill black people. This is a time where they should want to protect us and not try to kill our parents or our fathers."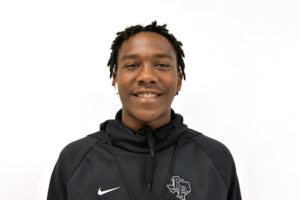 Gregory Davis, sophomore
Gregory Davis is a three-sport athlete who plays football, basketball and runs track. He said he has always looked up to his parents because of how much they work to care for their children.
Davis said his dad supports him in everything he does. His dad worked two jobs to put Davis in AAU basketball and is going to continue to get Davis a personal trainer.
"Whenever I want to do something, he supports me with his whole heart," Davis said. "He believes that I can make it as far as I want to as long as I try. Whenever he sees me down on myself, he looks at me in the game from the crowds and makes sure to get my attention and tells me to 'Chill out' and 'Calm down' and he tells me 'You're all good, stay in your game.'"
His mom is the one who keeps him in line and respectful. She taught him how to speak to people and how to continue to make a better path for his life. She helps him with his schoolwork and makes sure he stays on top of it so he can get a good education.
"She focuses on all her children, she calls them everyday to make sure they're all right," Davis said. "Right now, my sister has a baby and she's over there helping her out in Arizona. She's going to be over there for a couple months trying to raise it and make sure my sister knows how to be a good parent," Davis said. 
What does Black History Month mean to you?
"It's a way to let other people know about black history."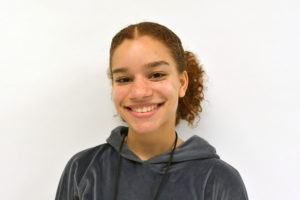 Kayla Bell, sophomore
Kayla Bell said her dad is her best friend because he helps her become a better person and impacts the lives of those around him with his humor and wit.
"He encourages me to sign up for things and he encourages me to do better and do the best I can, so I can achieve things in the future," said Bell, who is a Silver Star and competing in French Symposium.
After coming home tired from work, Bell said her dad still takes the time to help his three children with their homework and play with their dog Zeke. As a new driver, Bell has fun practicing driving with her dad. She said simply having lunch and running errands with her father makes her day. 
What does Black History Month mean to you? 
"I don't like to involve myself with it a lot because I'm not fully black, I'm mixed. They joke and think it's funny and say I can only celebrate it for half the month. But I'm still black, and it does still means a lot to me."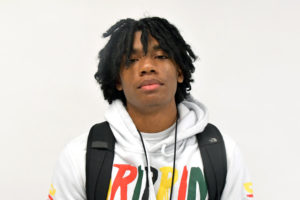 Tyrique Riley, junior
Tyrique Riley, who's involved in track and football, looks up to the popular actor Will Smith. Riley said people of all races acknowledge what Smith did and how he started from the bottom and made his way up.
"Since he's striving for greatness, he really inspires me to make it to the top," Riley said. "From the bottom where people did not know him at all, to the point where everybody knows him. I'm trying to get like that." 
What does Black History Month mean to you?
"Some people will make jokes about this, but this is an actual month for us. This month really acknowledges that we really came up."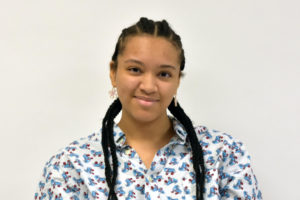 Courtney Wright, junior 
While growing up, Courtney Wright's parents didn't really talk to her about her culture. Wright said she was from a privileged, middle-class family and she didn't grow up around many African-Americans. When she found out she had a half sister, she was so excited because she had never had someone to really talk to about certain things.
"She taught me about what products to use in my hair and the right makeup to match my skin tone," Wright said. "She taught me how to be confident and, of course, some slang, and why Black Lives Matter is so important." 
Her sister taught her things that she never considered. She said she is grateful for her sister helping her become her true self. 
What does black history month mean to you? 
"Black History Month is a representation of a community coming together to celebrate what makes them unique. It's a place where you can express our opinions and get other people educated and make others aware of what's going on in the real world and why these things are so important."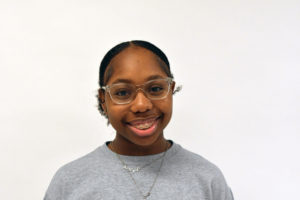 Jazlyn Williams, senior
Track star Jazlyn Williams is inspired by her mother because she's a strong independent black woman and that is what Williams continues to pursue to be.
"She sets a good example for me on a daily basis," Williams said. "I just look up to her. She's inspired me to be independent and never need a man."
What does black history month mean to you?
"Black excellence, and the importance of knowing where I came from."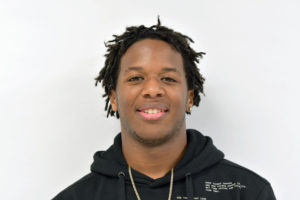 Hanson Bonton, senior
Hanson Bonton, who plays football and runs track, said the most inspirational person in his life is his dad. His father encourages him to do great things and be the best at what he does.
"He makes me want to take after his footsteps and I'm just really guided by him," Bonton said.
What does black history month mean to you?  
"Black History Month is really a celebration for us to show who we are and how we are free."