Students leave mark at French Symposium
For two days, French was heard throughout the building and decorations relating to the French Revolution hung in the commons. Students from across Texas arrived at Kingwood Park to participate in the French Symposium. 
French teacher Beverly Randall, who is in her 16th year at Kingwood Park, hosted the symposium. It was the first in-person French Symposium since 2019 because of COVID.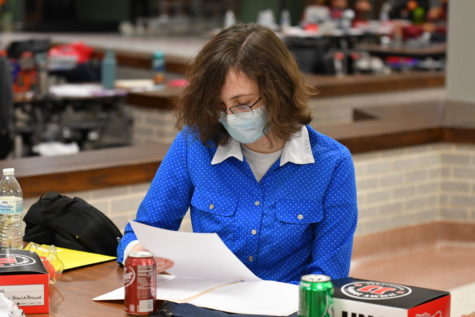 "It's like a UIL equivalent for French," Randall said, "so kids compete in speaking events like reciting poetry, reading prose, extemporaneous speaking and sight reading. We also have drama events, music events and art events. So we're not governed by UIL but we follow the same guidelines as UIL." 
Randall has taken kids to the symposium for as long as she's been teaching French. She even spent a few years prior to becoming a teacher as a judge for the event. This was her first time to host.
The theme was chosen by the host school and focused around the French Revolution. Kingwood Park placed sixth in the sweepstakes, their highest finish ever. First-place finishes in the weekend went to Gbemisola Olaoya in digital art and the vocal group of Olaoya, Ava Ordonez, Harmony Williams and Solange Wilson.
"We started practicing at the beginning of February when they picked their events," Randall said. "There are pieces that they read or recite, and then they listen and try to get the pronunciation down. They make appointments with me. So I would say most kids probably worked  two or three hours a week on it cumulatively."
Other students who placed in the competition included Alice Early, Ryan Eckerty, Iman El Attar, Maya Ortiz and Renée Wright.
"Balancing was the hardest part of it," said Eckerty, who placed in poetry, prose and dictée. "I was doing three different events and it wasn't so much just balancing, but practicing for each one while making it to my other events throughout the day."